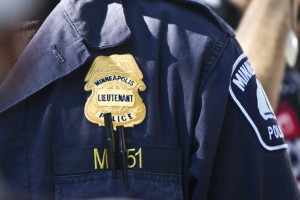 As Minneapolis marches toward outfitting its cops with body cameras, the city is hosting a series of listening sessions so citizens can speak their piece. During the fist round, the bulk of the 20 people who piped up at the North Side forum supported the move aimed at increasing police accountability, Minneapolis Public Radio reports.
Not surprisingly, the cops have their concerns. But less expected, a group dedicated to curb-stomping police brutality also believes the cams aren't all they're cracked up to be. While the Minneapolis Police Department plans to roll out the cameras next year, Michelle Gross of Communities United Against Police Brutality isn't sold on their effectiveness.
"We're not outright opposed to them, but we certainly don't think they're the panacea that everybody thinks they are," she says.
Despite studies showing body cameras elsewhere have reduced excessive force incidents and made for a precipitous drop in complaints, the Minneapolis activist isn't convinced the city will have the right policies in place to make the cameras a beat-down deterrent. She fears that if the public can't easily access the unaltered film, or if police aren't always required to keep the cameras rolling, the program will be a bust.
"Unless you have those things in place the body cameras are no good. They're just a waste of money," Gross says.
The total bill for the cameras is pegged at $1.2 million, though the city is chasing a federal grant that would cover half.
According to an oft-cited study conducted in Rialto, California, body cameras resulted in a 60 percent dip in incidents where cops used force and an 88 percent reduction in citizen complaints. During a similar Mesa, Arizona, test run that led to comparable drops, officers without cameras had nearly three times more complaints than their filmed peers.
"Whether the reduced number of complaints was because of the officers behaving better or the citizens behaving better – well, it was probably a little bit of both," said Rialto police chief William Farrar.
Ahead of cameras, Gross would prefer requiring police to carry professional liability insurance and wants to disband the Minneapolis Office of Police Conduct Review (OPCR), which replaced a similar board after it collapsed in 2012. At the time, members complained their recommendations bounced off closed ears, and critics of the new review body argue its civilian influence is even weaker.
Communities United Against Police Brutality recently collected complaint data from the first two and a half years of OPCR's tenure. Out of 962 cases it examined, less than 1 percent resulted in officer discipline.
As for the body cams, Gross likens their hype to the initial push to give cops Tasers, which were billed as a way to reduce the use of lethal force. "It was held out as the next big great thing that's going to solve everybody's problems. To me, body cameras are the same thing. They're holding it out as the next big great thing that's going to solve all the problems, and I don't see it."
The next community hearing takes place at 10 a.m. Saturday at the Sabathani Center.
Published on citypages.com by Michael Rietmulder.