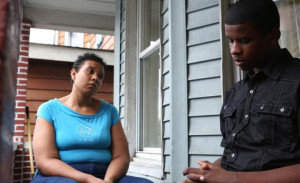 Three uniformed New York City police officers slammed the head of an autistic teen against a concrete sidewalk, then punched him in the face and kneed him in the back before arresting him for no reason as his mother pleaded for the officers to stop, according to a lawsuit filed by the boy's family last week.
Troy Canales, who was 17 at time, was leaning against a parked car in front of his Bronx home on Nov. 12, 2014 when the three officers approached him, asking him what he was doing.
"I was just chilling, and they think I was trying to break into a car," said Canales, now 18, on Thursday.
The officers then "grabbed plaintiff's arms and forcefully threw him down on the sidewalk" and "kneed plaintiff in the back and punched him in the face as he screamed to his family for help," according to the suit.
The teen's mother, Alyson Aulet-Valentine, begged the officers to stop injuring her son, telling them he suffered from autism, the suit, filed last Friday, claims.
"Even when I came out saying he was autistic, they showed no care and concern," Aulet-Valentine said, adding, "I do believe they just stereotyped everyone in the neighborhood as being guilty until proven innocent. Being black on the streets of New York is a crime itself."
Canales was released without charges after about an hour of detention.
"I'm sorry that this happened, but things like this happen," Aulet-Valentine said a commander at the station told her, according to local news site DNA Info.
The encounter Canales had with police is one of a number of cases where violence has been used against an individual who is emotionally distraught or has a mental disability this year. According to the Washington Post, about one quarter of the 462 people shot dead by the police in the first half of 2015 "were in the throes of mental or emotional crisis."
The Post reported that more than 50 percent of those killings involved police departments that had not given their officers state-of-the art training on how to interact with individuals with a mental illness.
The suit states that Canales has the "affect and demeanor of someone much younger due to his autism" and that he "easily becomes nervous and anxious when speaking with strangers and is often too nervous to make eye contact with people he does not know. Plaintiff becomes even more nervous, anxious and fearful when he is approached aggressively or spoken to by several individuals in a hostile or accusatory manner."
Now Canales' family is demanding that the NYPD improve its interactions with people who have mental illnesses or intellectual disabilities.
"The New York City Police Department's practices, procedures, training and rules, including those in the NYPD Patrol Guide, do not account for, instruct on, delineate or provide guidelines for Police Officer communication and interaction with people with developmental disabilities and autism in a constitutionally adequate manner," the suit alleges.
New York City's police commissioner, William Bratton, told local media this week that the department does train officers to deal with autistic people.
"In the academy, in the humanities curriculum, there is training specific to the issue of autism as well as other courses to learn how to deal with emotionally disturbed persons, and understanding the EDP category's a very broad-based category," Bratton is quoted by DNA Info as saying.
The complaint alleges that police violated Canales' Fourth Amendment right to be free from unreasonable searches and seizures and his 14th Amendment right to equal protection under the law.
The lawsuit seeks monetary compensation from the three officers involved in the arrest. The officers did not provide their names, and the suit lists them as John Does, alongside their badge numbers.
One of the officers said he "feared for his life" during the encounter with the teenager, but the suit does not describe his reasons for being afraid.
The NYPD did not return a request for comment.
Since the incident, Canales has become withdrawn, fearful of leaving his house and afraid of police officers, whom he had been taught by his parents to respect, the suit states.
"Troy used to wake up singing," Aulet-Valentine said. "He had a routine. The routine stopped. It affected him tremendously. He didn't want to go outside."
Written by Wilson Dizard for Al Jazeera America