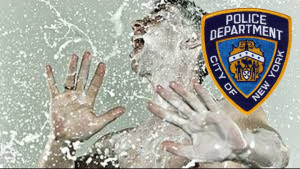 NEW YORK — A sergeant employed by the New York Police Department is suspended, following accusations that he threw semen at a woman he worked with.
Sergeant Michael Iscenko, 54, is said to have followed a coworker as she left the women's restroom and approached her from behind before throwing semen at her leg and shoe. A report from New York Magazine says Iscenko had shown romantic interest in the woman.
The incident took place at One Police Plaza, and at least part of the attack was caught on surveillance cameras.
An unnamed source told the New York Post: "[The victim] suddenly felt something on her leg, looked down, and said to [Iscenko], 'What are you doing?'"
The victim — who remains unnamed, but is confirmed to have worked in the Organized Crime Control Bureau with Iscenko — filed a complaint with her superiors, who chose to suspend the sergeant.
The liquid that was splashed on the victim's leg was recovered and confirmed by police to be semen.  The Manhattan District Attorney's Office obtained search warrant requiring Iscenko to surrender a DNA sample so a crime lab can determine if the semen belonged to the sergeant.
Following the investigation, the DA's office may choose to charge Sgt. Iscenko with sexual assault.