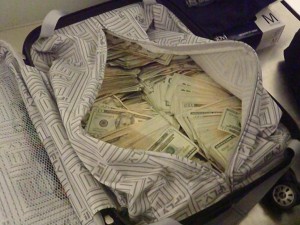 Most carry-on luggage is free, but one man's may have cost him $75,000.
That's the astounding amount of cash that was reportedly confiscated from a single suitcase while rolling through security at Virginia's Richmond International Airport.
"If you had $75,000, is this how you'd transport it? Just asking! TSA @ #RIC spotted this traveler's preferred method,"TSA spokeswoman Lisa Farbstein tweeted Tuesday with a photo showing the stacks of $20 bills.
Farbstein's post may have meant to draw laughs, but it was received with public backlash instead.
"Depends on who's more apt to steal the money: Baggage handlers or the @TSA," snapped @AndStrats.
"Since when does the TSA publicly advertise the private contents of people's luggage?" asked @Coyoteblog.
"Maybe you have a pic of my Kobold watch that was stole from my checked baggage at Logan…" added @Kevikev10.
"So wait. Carrying US currency is illegal now? Since when?" asked @PAntompietri.
While carrying loads of cash is not illegal, it is undoubtedly suspicious and can lead to it being confiscated for further review — especially if its handler is unable to account for it, according a TSA blog post.
"TSA officers routinely come across evidence of criminal activity at the airport checkpoint. Examples include evidence of illegal drug trafficking, money laundering, and violations of currency reporting requirements prior to international trips," the post explains.
"When presented with a passenger carrying a large sum of money through the screening checkpoint, the TSA officer will frequently engage in dialog with the passenger to determine whether a referral to law-enforcement authorities is warranted," it continues.
Civil asset forfeiture laws specifically allow authorities to seize cash and property from those suspected of a crime.
As evident in the outcry on Twitter, the practice has become contentious with some people never convicted or even charged with a crime.
"Forfeiture was originally presented as a way to cripple large-scale criminal enterprises by diverting their resources. But today, aided by deeply flawed federal and state laws, many police departments use forfeiture to benefit their bottom lines, making seizures motivated by profit rather than crime-fighting," the American Civil Liberties Union claims.
A Richmond airport spokesman, reached by the Washington Post, said that this particular passenger's luggage was seized by a federal agency, likely the Drug Enforcement Administration.
"I don't believe the person was issued a summons or a citation," Tony Bell told the paper. "The traveler was allowed to continue on his way."
Written by Nina Golgowski for the New York Daily News