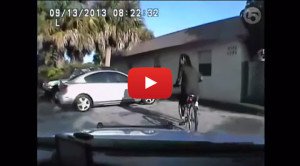 PALM BEACH COUNTY, Fla. — A Palm Beach County police officer was recently promoted after gunning down an unarmed man in a 2013 incident that sparked outrage across the nation.
Adams Lin was promoted to the rank of Sergeant this past weekend. While employed as a deputy, Lin had numerous complaints of excessive force filed against him.
In September 2013, Lin attempted to stop 20-year-old Dontrell Stephens for an alleged traffic violation as he rode his bicycle down the street. Footage from Lin's patrol car shows Lin gunning Stephens down within approximately four seconds. Stephens was holding nothing but a cell phone at the time.
Dashboard camera video of the shooting is available below:
"I told him get on the ground!" Lin can be heard telling another officer shortly after shooting Stephens, causing injuries that left him paralyzed from the waist down for the rest of his life.
Both the Palm Beach County Sheriff's office and the State's Attorney's Office cleared Lin of any criminal wrongdoing for shooting the unarmed man, refusing to press charges or discipline Lin, who records show has a history of complaints against him for excessive force.
In 2007, Lin was investigated by internal affairs after receiving five complaints within a 12-month period, but was cleared of any wrongdoing for each incident.
Lin is being sued by Stephens in an ongoing civil suit, but has yet to receive a single reprimand for use of force.