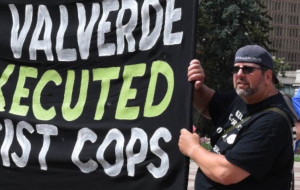 DENVER — A man has been charged with seven counts of jury tampering on Monday after prosecutors say he attempted to influence jurors by passing out literature about jury nullification.
Mark Iannicelli, 56, appeared outside Denver's Lindsay-Flanigan Courthouse with a small booth and a sign that said "Juror Info," providing flyers to jury pool members, according to the District Attorney's office.
Iannicelli did not appear to have personal interest in the trial at which he was handing out the fliers.
Jury nullification is the right jurors have in a trial to acquit a defendant, despite the conclusion by members of the jury that the defendant is "guilty" of the charges. It has historically been used as a safeguard against unjust laws, such as the federal Fugitive Slave Act, which required escaped slaves to be returned to their owners.
According to a report by Eric Verlo at Not My Tribe, Iannicelli is a soft-spoken Occupy Denver protester who was simply attempting to inform jurors of their rights. Verlo describes jury nullification as "an unpopular legal concept with a judicial system meant to crank out fines and jail sentences,"— a right which the US Supreme Court affirmed in 1969 with U.S. v Moylan.
"Iannicelli has been released from custody on a $5,000 personal recognizance bond," the office said in a Thursday news release. He is due back in court on August 11.