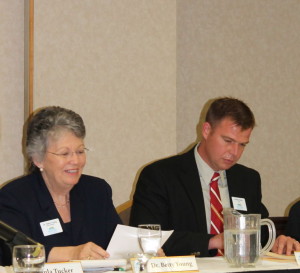 photo courtesy of Athens Messenger
By: Deric Lostutter
Students with Restore Hocking, a movement to oust controversial college president Betty Young for what they claim are unfair policies and harsh firing tactics of established faculty, recently faced a civil rights violation from Hocking Police chief and football coach, Al Matthews.
Students educated the officer, who has since refused to bench 4 of his players involved in a rape scandal at Hocking College, on their civil rights pertaining to the first amendment. Harassment from his football team and friends continues to this day according to some of the protesters, but the group stands strong.
Amidst rights violations and the allegations that a rape, which still is under investigation, never happened by Dr. Young and her P.R. director, The hacker/activist collective Anonymous has launched #OpHocking to ensure that no stone is unturned in ensuring the students rights and campus safety.
Scheduling a meeting to try to reason with Hocking College president, Betty Young, the organizer, student Cody Morgan, and a few representatives from the Restore Hocking group sat down in Young's office, with their cameras rolling to ensure transparency, and accountability for the words of Dr. Young.
In video obtained by TruthVoice, Dr. Betty Young realizes she is being recorded, and orders the cameras to be turned off. When Restore Hocking members decline, citing Ohio state law and their rights to film, Betty Young turns the tables, and amidst a rape investigation involving 4 Hocking Hawks football players that she has repeatedly ignored, and one that her P.R. director told everyone "it didn't happen" and to "take with a grain of salt", she claims to be a victim of her own students that she elected to be responsible for.
One can only wonder, will things change at Hocking College, or will they continue to protect the vested interests of the elite, their board of trustees, and their million dollar football program?