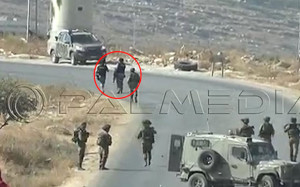 An international news agency has protested to the Israeli military after two of its journalists were attacked and had their equipment smashed by soldiers in the occupied West Bank.
Footage of the incident showed the two men, who work for AFP, being accosted by a group of soldiers while covering clashes between Israeli forces and Palestinian protesters at Beit Furik, near Nablus.
One of the journalists, Andrea Bernardi, an Italian, was thrown to the ground and jabbed in the side with a weapon, according to AFP.
He suffered bruised ribs and an injury beneath his eye and is understood to have received hospital treatment.
Bernardi and his Palestinian colleague, Abbas Momani, a photographer, said they had been covering confrontations when soldiers took them aside and ordered them to stop filming. They said they were sworn at in English.
Both men were wearing protective helmets and body army clearly emblazoned with the word "press". The Italian journalist said a soldier forced him to the ground and pressed his knee to his chest until he showed his press card.
Footage posted online by PalMedia, a Palestinian news agency, clearly shows a soldier smashing a black object violently onto the asphalt road, before picking it up again and throwing it away. Voices in Arabic in the background can be heard muttering "camera".
A group of soldiers, some emerging from an armoured vehicle, then pursue the two journalists as they are walking away. One of the soldiers takes a piece of equipment from one of the men and aggressively throws it to the ground.
A soldier then appears to grab one of the journalists.
AFP said a video camera and a stills camera had been smashed and another camera and a mobile phone seized
Lt Col Peter Lerner, a spokesman for the Israel army, promised "disciplinary measures".
"The highest levels of command are aware of the incident," he told AFP.
The journalists had been covering clashes that broke out following the funeral of Ahmed Khatatbeh, 26, a Palestinian man who died of his wounds on Thursday after being shot near Nablus by Israeli forces.
Israeli authorities said he and another Palestinian had thrown a petrol bomb at a vehicle on a road near the Jewish settlement of Itamar.