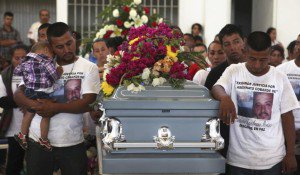 The prosecuting attorney in Franklin County, Washington, said Wednesday that he will not file charges against three police officers who shot and killed a man who threw rocks at them in February.
The announcement is the latest development in the case of Antonio Zambrano-Montes, a Mexican immigrant and farm worker who police shot and killed on February 10. The incident galvanized protesters, especially from the Latino community, who connected it to other officer-involved killings of minorities. Even the president of Mexico issued a statement condemning the killing.
"Upon review of the totality of circumstances … there is no evidence that the officers did not act in good faith and certainly there is no evidence of malice," prosecuting attorney Shawn Sant said at a press conference Wednesday. "The use of lethal force by the officers in this case was reasonable under the standards established by state laws and no criminal charges can be filed in this case."
Spectators interrupted several times during the conference, shouting, "17 shots," "murder," "his blood is on your hands" and "no justice, no peace." The question-and-answer period for media appeared to turn into an argument between Sant and spectators.
"The wife and children of Antonio Zambrano are extremely disappointed with the decision by Franklin County Prosecutor Shawn Sant not to charge the three City of [Pasco] Police Officers with any crime," George Trejo Jr., a lawyer who represents Teresa de Jesus Meraz, Zambrano-Montes's widow, said in a statement. "His claim that there is insufficient evidence to establish any crime beyond a reasonable doubt is a pretext for his decision to protect law enforcement from the very beginning of this case."
Sant released the final documents from the investigation into the killing earlier this month. The investigation found that Zambrano-Montes was on methamphetamine and likely holding a rock at the time officers fatally shot him. He repeatedly said to officers, "kill me," and did not respond to Taser shocks.
Last week, Meraz filed a lawsuit against the city of Pasco, its police department, the three officers and their wives and the police chief and his wife. She is seeking $25 million.