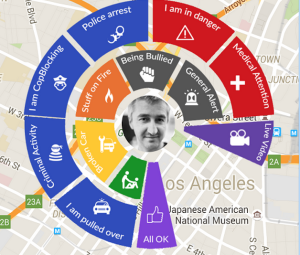 COLUMBUS, OH – Less than three months after the announcement of Cell 411, the version 2 of the app was just released with major improvements aimed at creating a broader, de-centralized means for world-wide users to manage and respond to all kinds of emergencies, using small trust-based networks of friends and family members. When alerted for help, the responders will receive turn by turn directions to the location where one needs help, an estimated time of arrival and distance to their location.
While the app was born out of activists' need to maintain police accountability, track events with GPS accuracy and send out real-time alerts, the Cell 411 platform now includes other default alerts aimed at helping school kids when they are being bullied, and a "general alert" which can be customized to alert the trusted network of any particular emergency or event taking place.
In the past, various mobile applications have attempted to bridge the gap between citizens and the State when dealing with various emergency situations, but Cell 411 has now gone above and beyond any previous generation app, especially with the new Patrol Mode, a feature the developers hope to be widely adopted by activists, neighborhood watches and other groups of citizens who wish to participate in improving their communities without help from police or government employees.
"Patrol Mode allows every citizen to become a 'private helper' of sorts. Think 'Uber' for emergencies or other urgent needs," says the creator of the Cell Platform, Virgil Vaduva. "It's a revolutionary approach to calling out for help and reaching out to help those people when they call on you. In my mind, this is all about our society peacefully evolving to a place where the State's monopoly on violence is no longer needed and government employees such as police and others will have competition from concerned and voluntary members of the community," he said.
When enabled in the app, Patrol Mode allows users to respond to global alerts sent by others within a specific radius, up to 50 miles. This feature could be particularly useful in case of large civil unrests, car problems, or other situations where someone could be far from home without ability to call on immediate friends for help.
If those new features were not enough, in Version 2, the creators introduced the most striking feature, the Live Video alerting. When triggered, a live video feed will be streamed and recorded to the user's trusted network, giving them the ability to maintain visual awareness and knowledge of the situation. Furthermore, the recorded video may not be erased by police, thieves, criminals or other malicious users if they steal or confiscate the smart phone, making the destruction of evidence impossible.
"We have volunteer firefighters using this tool as their dispatch tool, and neighborhood watch groups using it to provide self-security services to their communities. Your imagination is really the only limit to how you can use the app to improve your safety and security," said Vaduva.
The app can currently be purchased for $0.99 in both the Google Play Store and the Apple App Store.