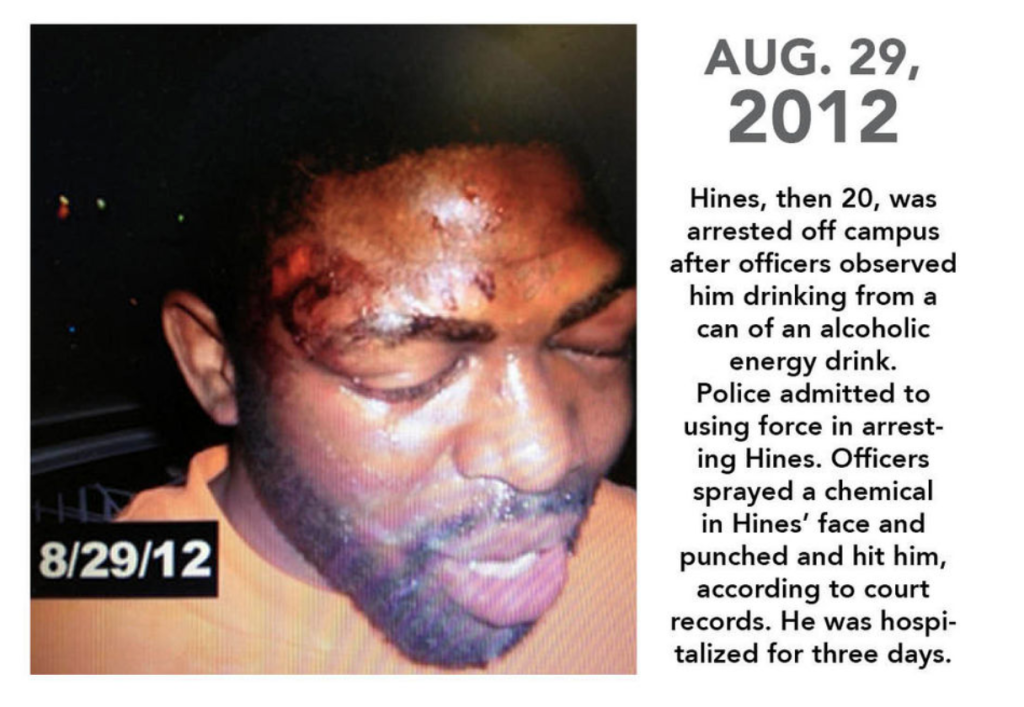 A Jackson man's nearly two-year wait for his day in court ends today.
Joseph Hines, 22, filed a lawsuit Oct. 25, 2013, against the city of Columbus and several police officers, seeking damages for an alleged "brutal unjustified physical attack" that occurred while he was a student at Ohio State University on Aug. 29, 2012.
A jury trial gets underway today in U.S. District Judge L. Graham's courtroom.
The incident initially began when two Columbus police officers confronted Hines, then 20, about a container of alcohol on the ground near a bench in the area of North High and East 13th streets about 11:45 p.m. across from the street from the Ohio State University student union, court documents state.
The lawsuit claims officers Debra Paxton, Thomas Dewitt and Edward Prime then handcuffed Hines, took him to the ground, sprayed him with mace, struck him in the back, shoulders, arms, stomach and head during his arrest on allegations of underage drinking and resisting arrest.
Hines, charged with six misdemeanors, ultimately pleaded guilty to a charge of littering and paid a $100 fine in January 2013. At the time, a prosecutor said Hines was found to have a blood-alcohol level of 0.07 three to four hours after the incident but added five of the charges against Hines were dropped "in light of everything that occurred that night."
In a deposition filed with the court, Hines, the son of the Rev. James Hines of Lilly Missionary Baptist Church, said he was knocked unconscious during the incident.
"The next thing I recall and the only thing I've been able to recall is waking up hogtied on the ground with an eye swollen shut, covered in mace, asking for water because I could not breathe," Hines said during the deposition.
Hines suffered injuries to the head, eyes, wrists and other parts of his body and permanent scarring during the arrest. He also has suffered mental anguish, severe emotional distress, fright and shock, humiliation or mortification and severe emotional distress, according to the lawsuit. He spent three days in the hospital after the incident.
In the initial response to the lawsuit, the city of Columbus admitted force was used during the arrest but claimed the officers were justified in doing so in "securing a lawful arrest."
The city of Columbus filed a motion to dismiss the case in April stating the officers did not violate Hines' constitutional rights at any time. Graham ruled in their favor in part, finding officers did not fail to intervene when police used force. He also did not find information to support an allegation officers conspired with one another to fabricate and cover up their use of force.
Graham, however, refused to dismiss allegations of excessive force, allowing a jury to hear the arguments and decide.
Hines, a 2010 graduate of Jackson High School, graduated from Ohio State University in December 2014 with a bachelor's degree in agribusiness and applied economics. He spent nine semesters at the university and had originally enrolled to study neurosurgery.
The lawsuit seeks more than $75,000 in damages.
By Danielle Salisbury for mlive.com