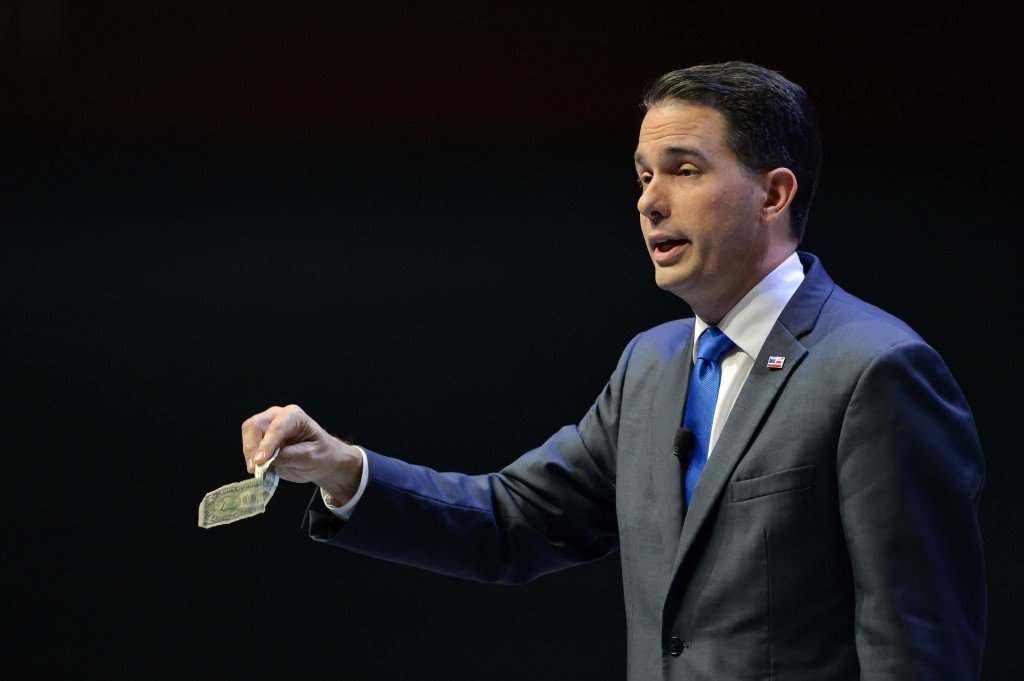 According to Wisconsin Gov. Scott Walker, police officers — who have killedmore than 700 people so far this year — are always right.
During Heritage Action's presidential candidate forum on Friday, the group's CEO asked the Republican presidential candidate about the "Ferguson effect" — the false theory that police have slowed down enforcement due to public scrutiny, which has lead to more crime. Instead of addressing the demonstrations in Ferguson and other cities across the country in which Americans raised issues with police violence and racial inequalities in policing, Walker used the question as an opportunity to defend law enforcement unilaterally.
"Do we have an issue in this country that we have to deal with when it comes to race? Absolutely,"he said. "But we shouldn't confuse that into somehow thinking that that means we shouldn't treat our law enforcement professionals as the great men and women that they are."
He continued, refusing to admit that any of the officers involved in the recent, high-profile deadly shootings may have made a mistake. Instead, he told the story of Deputy Darren H. Goforth, a police officer who was killed in Texas earlier this year.
"Every leader we have — at the local level, the state level, all the way up to the president of the United States, for that matter anyone in the clergy and business and anywhere else — needs to step up and say that is wrong," he said. "The men and women who wear the badge are doing the right thing, every day. All the time. they protect us. We need to have their back. As president, I will have their back every single day."
He said he was recently in Harris County, Texas, where Goforth "was pumping gas into his car, his squad car, and someone came up and 15 times put bullets into his head like a cold-blooded assassin. And the sheriff down there said he believed it was because that sheriff deputy was wearing a uniform."
Despite being asked about Ferguson, Walker did not mention Michael Brown who was killed by a police officer in Missouri city. He did not mention Eric Garner who was killed by police in New York, Freddie Gray who died in police custody in Baltimore, or Walter Scott who was shot and killed by a police officer just a few hours from Greenville, where Walker spoke on Friday.
He also urged people not to focus on division — like "some in this administration" — but to talk about unity like the families of the nine people killed in Charleston, South Carolina earlier this year.
"If you focus on things to bring people together, that's what you're going to get," he said.
Walker has previously dismissed the Black Lives Matter movement, responding to a question about whether he would meet with activists by saying: "Who knows who that is?" When pressed on the issue, Walker said that Wisconsin is the only state that requires "independent review anytime there's an officer-related shooting that leads to a death," adding that a similar policy could help nationally.
Republican candidates are all having a difficult time connecting with Black Lives Matter and the movement's grievances. Last month, Donald Trump threatened to fight Black Lives Matter protesters if they attempted to speak at one of his events. Ben Carson told ThinkProgress that Black Lives Matter is "silly." And Sen. Marco Rubio (R-FL) said that racial disparities are a "serious problem" that should be confronted, "but it may not necessarily have a federal bill that we can pass that can fix all this."
Walker spoke the least of the 11 top-tier Republican presidential candidates during Wednesday night's GOP debate. The Heritage "Take Back America" forum, where he had the stage to himself for almost 30 minutes, gave him an opportunity to further elaborate his positions to a conservative audience. But while he had the audience's undivided attention, the GOP voters' response to the governor paled in comparison to their reaction to Ben Carson or Texas Sen. Ted Cruz — who both currently lead Walker in the polls.
By Kira Lerner for ThinkProgress