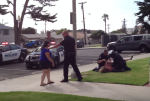 A California woman has filed a new complaint against police officers and the city of Carlsbad, California, for what she and her lawyers say was "egregious police brutality and unlawful conduct" in 2013. A bystander caught the confrontation on camera.
According to the complaint, which was filed on Friday, Cindy Hahn and her children were leaving a friend's birthday party on July 31, 2013 when they came across a car with its alarm going off. Hahn reportedly asked the officer why the police weren't doing anything as the car alarm sounded. The officer allegedly yelled at her, telling her to "mind your f**king business." Hahn then called a nonemergency police hotline to report the exchange, the report says.
When Hahn was driving home, she realized that the officer was following her before he pulled her over on an alleged seatbelt violation, according to the complaint. The officer allegedly had Hahn get out of the car, and he started beating her up while her children, ages 7 and 11, watched from the back seat. "While she was being beaten and pummeled, Ms. Hahn was crying out for help," the complaint says.
The video of Hahn's arrest was shot by an "out-of-state bystander who was appalled," said Hahn's attorney, Mark Geragos. Hahn and her attorneys contend that the officer pulled her over and beat her in retaliation for calling the police hotline.
The video footage of the confrontation shows one officer straddling Hahn on the ground when another officer arrives on the scene and joins him in pinning her down. The complaint states that Hahn's clothes were nearly "ripped off" and that she suffered a concussion that day, resulting in "permanent memory loss and brain trauma."
Hahn was charged with two felonies — one for resisting arrest, and one for battery on a police officer with injury. However, Geragos said those charges were dismissed in July, after the district attorney watched the video of the incident. Hahn's lawyers posted the footage to YouTube on Friday.
Hahn and her lawyers are seeking a jury trial and an unspecified amount of damages. The city of Carlsbad has "taken the position that this is acceptable police behavior," explained Geragos.
"Because of the ongoing litigation, the City of Carlsbad Police Department is limited in the information it can provide at this time," the department said in a statement. "We are prepared to provide a complete and detailed account of the facts of this incident in a courtroom."