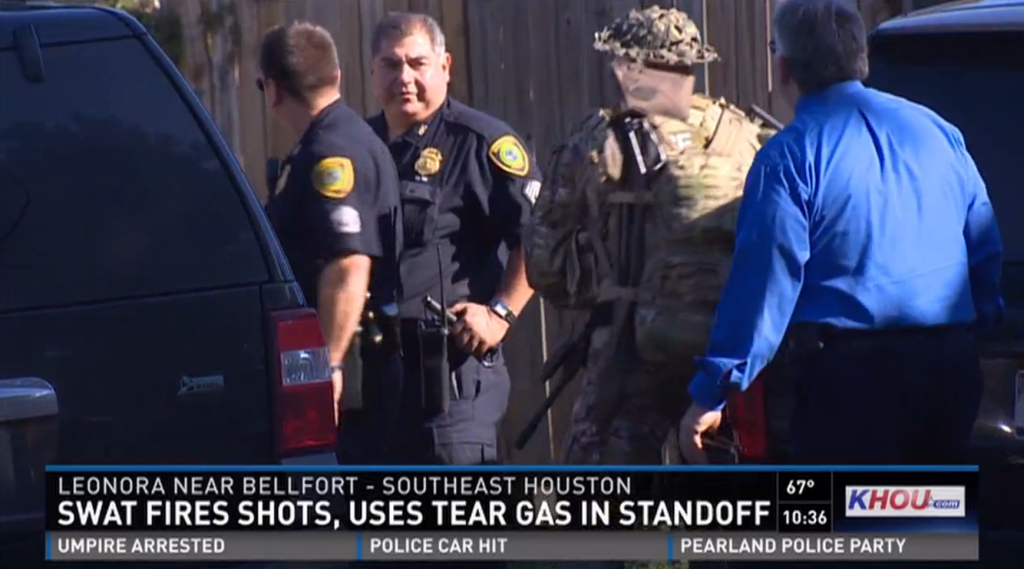 A man is in custody after a SWAT stand-off in southeast Houston that lasted several hours Saturday.
It happened in the 7700 block of Leonara near Telephone Road and Bellfort.
The suspect's mother said a police officer shot at her son even though according to her, he was not a threat to them.
"I told them, 'I can handle. Allow me to talk. Let me see him.' They say , 'No,'" Blanca Medina said.
Police said the man pointed a shotgun at one of their officers while they were trying to talk to him.
"At one point during the exchange with the suspect, (the suspect) manages to raise the shotgun and he pointed it directly in the direction of the patrol sergeant," said HPD spokesman Victor Senties.
Police said the suspect did that twice and both times the officer fired at the man.
The officer's bullets apparently struck the burglar bars the man was standing behind in the home and miraculously missed him. Neither the officer nor the suspect was injured in the gunfire.
The man proceeded to lock himself in his town house and at some point his girlfriend was able to get out of the home. Police then brought in heavy SWAT equipment and after several hours, tear gas canisters were fired into the town home.
Shortly afterward police announced the situation was under control and the suspect was in custody.
The trouble apparently started over something the suspect posted on Facebook yesterday. His live-in girlfriend apparently became upset after seeing the post and the couple began a marathon argument.
By Saturday morning, the man reportedly became suicidal and picked up a knife.
Senties said the man's girlfriend called paramedics and when police showed up, the four and a half hour stand-off began. The suspect is now in custody possibly facing charges of aggravated assault of a public servant.
Senties said officers are glad no one was seriously injured.