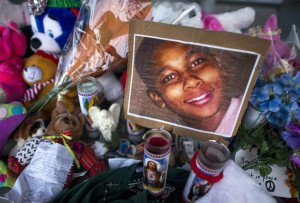 A grand jury has begun evaluating evidence to decide whether criminal charges should be filed against two white police officers in the fatal shooting of Tamir Rice, a 12-year-old black boy carrying a pellet gun outside a recreation centre.
The head of Cleveland's largest police union told The Associated Press on Tuesday that officers were subpoenaed to testify before the grand jury last week and on Monday.
The Nov. 22, 2014, killing became a flashpoint in the wake of other deadly police encounters with young black males across the country.
Tamir was playing with a borrowed airsoft gun, which shoots nonlethal plastic pellets, when someone called police. The gun bore a striking resemblance to a real firearm, in part because its tell-tale orange tip had been removed.
Footage recorded by a surveillance camera showed then-rookie patrol officer Timothy Loehmann shooting Tamir within two seconds of a patrol car skidding to a stop just feet from the boy. Questions remain about whether Loehmann told Tamir to raise his hands before firing two shots, one of which struck Tamir.
Henry Hilow, an attorney who accompanied the officers to the grand jury, declined to comment.
Subodh Chandra, an attorney for Tamir's family, issued a statement on Tuesday criticizing McGinty for not telling Tamir's mother, Samaria Rice, that prosecutors had begun presenting evidence to the grand jury.
Chandra and other Rice family attorneys have been calling on McGinty to allow a special prosecutor to take over the case.
Last year, prosecutors obtained an indictment charging white Cleveland patrolman Michael Brelo with voluntary manslaughter for his role in the deaths of two unarmed black people killed in a 137-shot barrage of police gunfire after a lengthy, high-speed chase. Brelo was the only one of 13 officers who fired their weapons the night of Nov. 29, 2012, to be charged criminally. Prosecutors argued that the car's occupants, Timothy Russell and Malissa Williams, no longer posed a threat when Brelo fired the final 15 rounds.
A judge acquitted Brelo at trial in May.
That case helped prompt a U.S. Justice Department investigation that concluded Cleveland police too often use excessive force and violate people's civil rights. The city and the DOJ reached an agreement earlier this year on a police department reform plan.