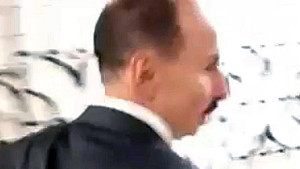 After police have been looking for a man accused of masturbating at a Midtown subway station—and then flashing a gun at someone who tried to record him, they now arrested him thanks to a short video recorded by a passenger. Worse yet, it turns out that the masturbator is a retired cop named Steven Esposito.
According to the NYPD, the masturbation took place on Monday, October 19th, at 11:56 p.m. when a 38-year-old woman was on the southbound platform of the 5th Avenue N/R station "when she heard a hissing noise beside her. When she looked to see what the noise was, she observed the suspect manipulating his penis outside of his pants."
Police say that when Esposito began to leave, the woman began to cry. A man asked her what was wrong, and she explained what happened—prompting the man to take out his cellphone and followEsposito to record him.
As he reached the exit, the suspect allegedly "pulled out a black handgun, pointed [it at the man]" and told him to mind his own business."
There were no reported injuries. The police released the cellphone footage, showing a man with a mustache wearing a grey suit.
The 56-year-old retired cop admitted to brandishing his gun to threaten the man, was charged with misdemeanor public lewdness and menacing.
He was released without bail and is scheduled back in court on December 1, according toDNA Info.
While New York City has some of the strictest gun laws in the country, Esposito is allowed to carry a gun after he obtained  "good guy letter" from his former agency.