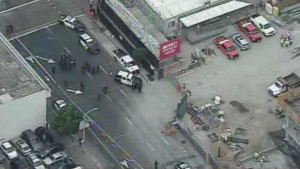 Two San Francisco police officers are in the hospital and a man is dead after officer's opened fire in the the city's fifth officer-involved shooting this year.
The San Francisco Police Department says the two Sergeants are at local hospitals in stable condition. So far, all that's known about the that was man shot is that he is Hispanic and in his 20s.
Hours after the shooting, community members came together to protest the police force.
As word spread of the officer-involved shooting, a Stockton couple made the decision to drive to San Francisco. Dionne Smith Downs says police killed her son. That was all the reason she needed to join protesters at Market and 8th streets.
"It's time for a change and it starts with us as the people to come together and educate ourselves to address the system," Downs said.
Market Street is closed between 7th and 9th streets in San Francisco as police investigate an officer-involved shooting on Thursday, October 15, 2015. (KGO-TV)
Earlier in the day, the area was filled with law enforcement following the fatal officer-involved shooting.
A nearby construction worker initially flagged down two sergeants. Someone was throwing glass bottles at the construction site, a safety concern that became even more drastic when the sergeants attempted to handcuff the man.
"A violent struggle ensued. The sergeant on the ground yelled to his partner, 'He's getting my gun, he's getting my gun, he's got my gun. Shoot him," San Francisco police Chief Greg Suhr said.
The Suhr said two shots were fired, killing the man. Also that the sergeants involved are senior officers.