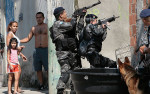 At least six people were arrested Thursday in connection with a massacre that left 19 people dead in Greater Sao Paulo, according to local media outlets.
Five military police officers and a member of the civil guard were arrested, according to GloboNews, following an operation that involved more than 450 officers from military and civil police forces.
Eighteen victims died in the Aug. 13 serial killing in 10 separate locations across the Osasco and Barueri regions of Greater Sao Paulo. A 15-year-old girl later died of injuries sustained during the shooting.
Investigators believe the shootings were revenge attacks by local police in response to the Aug. 8 fatal shooting of an officer at a local gas station.
Witnesses said hooded attackers asked victims if they had a criminal record, with positive responses resulting in shots fired. But investigators found that most of those killed were not known to police.
A member of the military police had already been arrested at the end of August in connection to the killings.
Two other member of the military police were arrested during Thursday's operation after unregistered arms and munitions were found in their homes, according to the Sao Paulo secretary of public security, Alexandre Moraes. Their arrests are not officially linked to the mass killing.
Moraes said investigators have identified more suspects in the massacre but did not have enough evidence to warrant further arrests. "Everything has to be done in a rigorous way, and this is what we are doing," he said.
Police also arrested another military police officer linked to a separate multiple shooting that resulted in the deaths of four teenagers outside a pizzeria in neighboring Carapicuíba in September.
Sao Paulo Gov. Geraldo Alckmin has vowed that any member of the police involved in the massacre "will be expelled from the corporation and answer to civil and criminal proceedings".
Police killed at least 3,022 victims in Brazil in 2014, according to figures released this week by the Brazilian Forum of Public Security. Almost one-third of the victims were in Sao Paulo state – Brazil's most populous.
Four states did not provide figures, including one of the country's most violent, Ceará, indicating the final tally is almost certainly higher.
The organization also said 18 Brazilian states witnessed a rise in the total number of intentional violent deaths last year.
Murders, police killings and other fatalities resulting from robberies and assaults totaled 58,559 in 2014 — the equivalent of 160 deaths per day, or seven every hour.