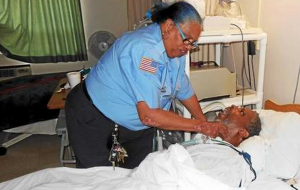 In possibly his last recorded conversation before ending up in a coma, Kevin Higgenbotham called police for help.
In the 9-1-1 recording obtained by The Trentonian through a public records request, the Trenton resident asks the dispatcher to send some assistance to his home on the 200 block of Bellevue Avenue.
"I have someone on my driveway that's trespassing, he won't leave," Higgenbotham pleads to the dispatcher at 8:34 a.m. on June 15.
Forty minutes later, Higgenbotham was transported to Capital Health Regional Medical Center where went into cardiac arrest. The medical emergency left him in a coma that he has yet to recover from. His attorney Stanley King, of Woodbury-based King & King, alleges police repeatedly beat Higgenbotham with batons and pepper strayed him, causing the 47-year-old to be put in his incapacitated state.
King said Higgenbotham suffers from bipolar disorder and was experiencing an episode the morning he called police. The attorney said the trespasser Higgenbotham reported to police was his cousin, who lived with the family at the Bellevue Avenue home.

"I live here," a man believing to be Higgenbotham's cousin says in the 9-1-1 recording. "I got mail in here."
In the phone call, Higgenbotham disagrees with his relative's statement and asks him to get his mail to prove it. He also tells the dispatcher that it is not a family member.
"I don't know who he is," Higgenbotham tells the dispatcher. "We'll find out when (the police) get here. You send them right away."
In the phone call that last 2 minutes, 40 seconds, Higgenbotham at times is unintelligible. He does provide the dispatcher his first and last name, and spells it.
Approximately 6 minutes later, police arrive on the scene.
In their account of the events that transpired, police claim Higgenbotham was under the influence of drugs and that he assaulted his family member when they arrived.
The dispatch report, also obtained by The Trentonian, shows 25 minutes pass before Higgenbotham is placed under custody after the first of four police cars arrive on the scene.
King, who intends to sue Trenton for the officers' actions, believes that amount of time that passed before any arrest was because police were talking to Higgenbotham and his mother.
"His mother begged and pleaded with police that he just wasn't on his medication, he need to get his meds adjusted," King said Wednesday, noting she asked police to take him to the crisis center. "He's wasn't going to do anything to anyone."
Police said when officers encountered Higgenbotham outside the home to arrest him for the alleged assault that he ran into the residence.
King contends the officers never had a right to enter the home, especially since Higgenbotham placed the distress call for help.
"It's just a clear case of the officers not responding and knowing how to deal with someone exhibiting some type of mental distress," King said. "He didn't commit a crime. There were no excruciating circumstances warranting them to go into his home."
The dispatch notes outline someone was "armed (with) something at location" and when Higgenbotham went upstairs that it was "unknown if he has any weapons."
"There was no weapon at all," King said, adding it was the first time hearing the allegation.
Police used pepper spay on Higgenbotham in the home, which they said seemed to have no effect.
Higgenbotham was eventually placed in a paddy wagon with his hands cuffed behind his back. Police said when Higgenbotham was in the vehicle, he became combative and started kicking the windows.
In the dispatch report, the hospital was "notified to get restraints ready."
King calls the Trenton police officers' actions "egregious" and something that "never should have happened."
"We think it's really a shame that he is the person who actually initiated the call asking for officers to come, tied together with the fact that it wasn't probably a real emergency, but him ending up in a coma is just insane," the attorney said.
Higgenbotham, who was charged with simple assault, criminal mischief, improper behavior and resisting arrest, remains in a hospital bed at Statesman Health & Rehabilitation in Levittown, Pa.
"He's still in a very serious condition," King said. "It doesn't really look good. We're just keeping our fingers crossed at this point."
The Mercer County Prosecutor's Office launched a probe immediately following the arrest. A prosecutor's office spokesman said Thursday that the investigation is ongoing.
In the last snippets of the 9-1-1 call, the dispatcher tells Higgenbotham that an officer was being dispatched.
"Thank you very much," he responds. "Have a good day."
By David Foster for The Trentonian