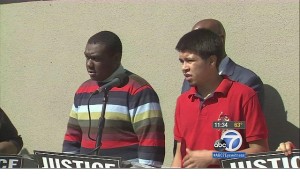 Police in plainclothes shot a 15-year-old black boy in the back and hauled his Latino friend down to the precinct, without warning, while they were on their way to school, parents say in a $20 million federal complaint.
The teens and two friends had been on their way to school on Feb. 10, 2015, when they stopped in an alley near 10th and West Florence avenues, according to the complaint filed Wednesday.
It was about 7:45 a.m., and the teens were playing rap music while changing into their Alliance Renee & Meyer Luskin College-Ready Academy uniforms when detectives in plainclothes appeared.
"Without warning or identifying themselves," the Los Angeles police officers "opened fired," shooting them with at least three rounds of bullets, the complaint states.
Suing through his mother, Jamar Nicholson, 15, says he was hit once in the back with a 9mm bullet.
Jason Huerta, 17, who sued through his father, says the police "violently kicked and stomped … [on his] back and neck."
Police arrested all the boys "as though they had committed a crime," the complaint states.
Nicholson says his gunshot wound was bleeding profusely but that the officers left him sitting on the curb in handcuffs without getting him medical attention.
Once at the hospital, Nicholson was kept handcuffed to the gurney, according to the complaint.
Huerta meanwhile was hauled down to the 77th Precinct and kept for several hours without food and water.
Both boys say police interrogated them without reading them their Miranda rights.
Police also barred the boys from calling their parents, and they didn't make the calls either.
Geraldine Nicholson says her son's school called her to report the boy's absence, but that police had deliberately lied to the school when they asked about the shooting.
Police told the school Jerome "was not involved in the shooting," according to the complaint.
Nicholson's attorney, John W. Harris, said in a news conference that the teens had not threatened anyone, but that police "shot first and asked questions later," according to an article by the Los Angeles Times.
The LAPD told the Times that one of the teens was holding what officers thought was a gun when they fired on the group. They said the weapon turned out to be a toy gun with a bright orange tip at the end of the barrel to indicate it is a toy.
Nicholson and Huerta say "race was a substantial factor in the shooting."
They note that Nicholson is black and Huerta is Mexican-American.
In addition to the city of Los Angeles, Nicholson and Huerta's parents names as defendants police chief Charles Beck, commander Andrew Smith and officer Miguel Gutierrez, who fired the shot that struck Nicholson.
They seek punitive damages for discrimination, unreasonable search and seizure, false arrest and imprisonment, excessive force, assault and battery, and other charges.
The Los Angeles Police Department declined to comment.