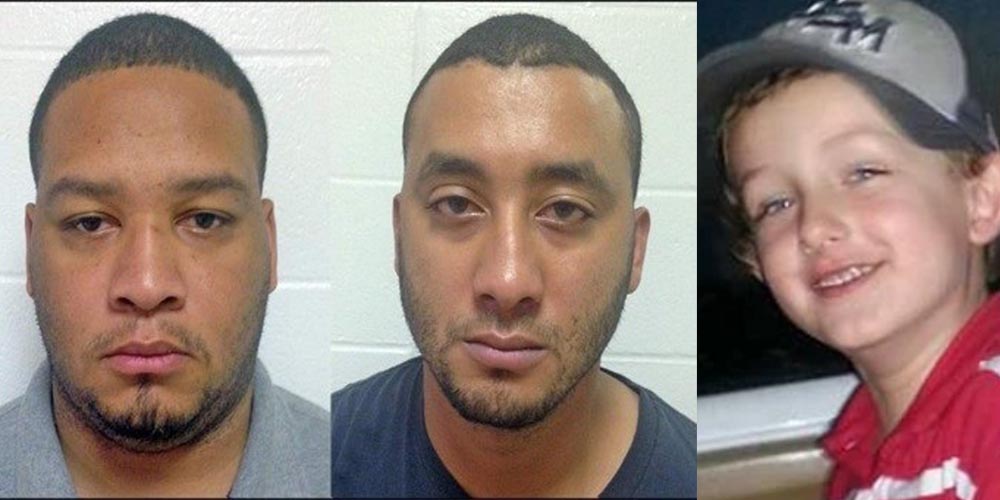 Two city marshals in the central Louisiana town of Marksville will be charged with second-degree murder in the shooting death of a six-year-old autistic boy following a car chase involving his father, authorities announced late Friday.
Norris Greenhouse Jr., 23, a reserve officer, and Lt. Derrick Stafford, 32, were arrested Friday night by the Louisiana State Police, which is leading the investigation, CBS affiliate WAFB reported.
Jeremy Mardis was shot and killed Tuesday after his father, Christopher Few, led law enforcement officers on a chase. Few was wounded in the incident and is hospitalized in critical condition.
The marshals will also be charged with attempted second-degree murder of the father, Louisiana State Police Col. Michael Edmonson said at a news conference late Friday night.
Lt. Jason Brouillette and Sgt. Kenneth Purnell were also involved in the chase but have not been charged. All four officers were placed on administrative leave.
One of the officers was wearing a body camera which recorded the chase, the shooting and its aftermath.
"It is the most disturbing thing I've seen, and I'll leave it at that," Edmonson said, adding that the footage, witness interviews and forensic evidence led police to file charges.
"The initial statement to my investigators was that the vehicle was backing up, they feared for their lives and they started firing," Edmonson told CBS News correspondent David Begnaud Friday morning.
"There were a lot of shots fired that night and they were coming in one direction. There's nothing for us that indicates that any fire came from that SUV," Edmonson said. "There was no weapon found in that SUV."
State investigators want more information from the officers, Edmonson said before the arrests.
"I think the longer it takes for these officers to come forward and give us information, it's more concerning," Edmonson told CBS News Friday morning. "Come forward and tell us what happened."
One of the cops has a very long list history of lawsuits and violence as well.
In October, 2011, Lt. Derrick Stafford was indicted by a Rapides Parish grand jury on two counts of aggravated rape. The case was resolved, we reached out to the clerk of court's office for the outcome, we are awaiting those documents.
Lt. Derrick Stafford also has five pending civil lawsuits involving him in Avoyelles Parish.  He's also worked for the Avoyelles Parish Sheriff's Department, Marksville Police Department and the Chenyville Police Department.  Norris Greenhouse Jr. was also named in several of the suits.  Greenhouse is a reserve officer with the Marksville Police Department, part-time Marksville City Marshal, and full-time Alexandria City Marshal.
All of the following civil suits are still pending in Avoyelles Parish:
January 3, 2011 — While arresting a woman, Stafford allegedly threw her in the backseat with her hands cuffed and tased her without warning in the left side of her stomach while she was sitting in the backseat.
July 4, 2012 — While the Fourth of July parade was in progress, a family with a dog suffering from seizures and a stroke says they tried to get across the parade to make it to a veterinarian's and was told he could not go cross. The officer allegedly yelled at the wife and the husband ran across the street to make it to the vet. The man later called the sheriff's office to make a complaint against the officer, and was arrested for disturbing the peace. While he was being arrested, Stafford reportedly arrived and asked to arrest the suspect himself and put his handcuffs on him. The man spent the night in jail and later filed a lawsuit. The lawsuit is still pending.
December 2012 — While breaking up a fight between two girls on an Avoylles Parish school bus, Stafford was working for the City of Marksville and allegedly pulled a 15-year-old girls' arms behind her back and apparently broke it. The girl's mother filed suit and it's still open.
June 18, 2013 — Stafford and Greenhouse were driving a Marksville Police Department cruiser when they ran into an open gate owned by the Avoylles Parish Sheriff's Department. They sued the department and the case is still open.
July 4, 2013 — Greenhouse and seven other officers, including Stafford,  broke up a fight during a Fourth of July Celebration by pepper spraying into the crowd.  It was here another officer allegedly arrested and assaulted a 14-year-old boy. A mother who was there with her three children, sued. The case is still pending. At the same event another man says he lost his keys in the confusion of the spray, and was slammed to the ground and assaulted by several officers who also allegedly pepper sprayed him again. The man sued. The suit is still pending.
The two men were also named in a July lawsuit filed in federal court in Lafayette against the city, Chief Smith, and five other Marksville police officers.
The suit was filed by Ian Fridge of Ascension Parish, who was booked in Marksville in July 2014 with resisting an officer, battery on an officer, remaining after being forbidden and possession of firearms on a premises where alcohol is served.
The arrest report Fridge filed with his lawsuit contains affidavits from Stafford and Greenhouse.
Stafford wrote a report indicating he and Greenhouse went to the Marksville Art and Music Festival to look for a man who festival-goers complained was wearing a holstered gun on the festival grounds. They allegedly found Fridge walking around wearing an LSU T-shirt and a Desert Eagle .40 caliber pistol strapped to his leg, the lieutenant's report states.
Stafford alleges that he told Fridge to take his gun to his car, because he couldn't carry it at an event where alcohol was sold. Fridge argued, and when he placed his hand on his gun Greenhouse grabbed him, Stafford alleges. Fridge continued to argue and fight with the officers and elbowed Stafford in the face. Stafford then says he pulled his Taser and fired on Fridge. At that time Greenhouse was able to handcuff Fridge.
As they were taking Fridge to the car, Stafford wrote that he "asked Mr. Fridge of why did he put the small children and public at risk the way he did."
In his lawsuit, Fridge states he went to Marksville to provide people with information about the Libertarian Party. A core tenet of the party is the right to keep and bear arms, the suit states. To demonstrate that, several members of his group were wearing their holstered weapons, the suit states.
The police report accuses Fridge of having an odor of alcohol on his breath, but he denies drinking at the event. He claims the officers taunted him to try to persuade him to draw his weapon, and accused him of being from out of town. He claims in his suit that he offered to take his gun to his car, but was "startled by the unanticipated use of force." He denies resisting the officers, and claims the officers were shouting things like "stop resisting" for the benefit of onlookers.
Fridge claims he told officers he had just had surgery on his shoulder and wrist, at which time the officers tightened the handcuffs on his wrists. He also claims that he was hit by the Taser after he was cuffed and lying facedown on the ground.
Fridge also alleges that the officers deleted video of the incident he had managed to capture on his cell phone.