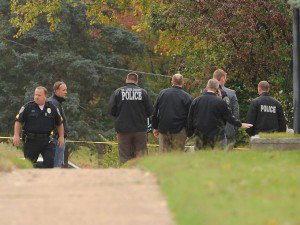 Steelerslounge.com reports that cops say a man shot himself in the face after exchanging gunfire with officers in Normandy on Wednesday afternoon, but that police report contradicts witnesses who claim they saw cops shooting him point blank in the face.
Activists at Normandy Police Department Corporal Tameika Sanders' press conference pressed her about discrepancies between her account and those provided by alleged eyewitnesses. But when officers arrived on the scene, the teen rebuffed their attempts at dialogue and continued walking into the 7700 block of Ellington Drive.
The man then ran to the 7700 block Paddington. A man who shot himself during an altercation with police Wednesday near Ferguson, Mo., died from his injuries Thursday. Officers lost sight of him and heard a gun shot, police said.
For its part, the city of Ferguson tweeted that their officers were not involved in the shooting. "The male was transported to an area hospital where his condition is listed as critical".
Looking out her window, the witness said she saw the man-who was wearing a red, orange and yellow jacket-turn to face the officers, who were just six or seven feet away from him, when one of the cops shot him in the face.
Deron Smith told the St. Louis Dispatch that he saw the teenager running from the officers, but that he didn't appear to be holding a gun because he was using two hands to scale a fence. He told the Post-Dispatch he heard six to eight gunshots behind his home and went outside to investigate.
He saw a man running from police officers. Police were called to the scene at 2 p.m. CDT by concerned family members to tend to a "suicidal subject", an 18-year-old male whose name was not revealed. They found the 18-year-old on the ground and unresponsive.
She said it's unclear what sequence of events led the family to call the police, but she urged anyone with knowledge of the incident to call the St. Louis County Police Department at 314-889-2341. Anyone who may have witnessed this incident or may have pertinent information regarding it is asked to contact the St. Louis County Police immediately. The other officer is a 19-year veteran of the department.
It was at that point that officers "returned fire", but did not apparently strike the subject, according to the statement. All Normady officers are trained in crisis intervention and must take a 40-hour course on how to handle suicidal suspects, Sanders said.
Normandy officers do not have body cameras. Relatives of the man showed up briefly later at the scene and challenged the police version of how he died.