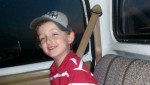 Louisiana State Police are investigating an officer-involved shooting that occurred around 9:30 p.m. Tuesday in Marksville on Martin Luther King Drive.
According to State Police, City Marshals from the Ward 2 office were in pursuit of a vehicle. City Marshals fired their weapons at the vehicle at the conclusion of the pursuit.
State Police confirmed that the driver of the vehicle is in critical condition.
Avoyelles Parish coroner Dr. L. J. Mayeux identified the driver as Chris Few. Few is in critical condition and is the boy's father.
His passenger was identified as 6-year-old Jeremy Mardis. The boy was pronounced dead. Mardis was a first grader at Lafargue Elementary.
State Police have not identified the officers involved in the shooting.