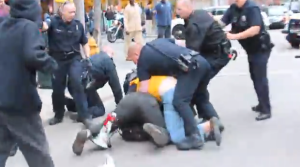 Denver's largest police union is filing a lawsuit against the city for its new body camera policy, saying that it was implemented without input from members of the force. The Denver Police Protective Association also said they support the program, but just didn't like the process that led to its implementation.
The announcement came on Nov. 4, with the union filing the suit against the City of Denver on behalf of its roughly 1,300 members. They are seeking to stop the implementation of the full program, scheduled to begin after the beginning of the year, or at least fix what they deem as its flaws. There is a pilot program currently underway, but the department is saying they will continue as planned unless the courts tell them otherwise.
"There's lawsuits all the time," said Deputy Chief Matt Murray. "The courts have their job, and we will respect that process. And we also have things we have to do, and certainly we will react appropriately if the courts tell us to stop."
The camera program comes in the wake of several high profile police abuse cases around the nation and the need to observe incidents, both for the protection of citizens and police. After all, if there is video evidence, the truth is much easier to obtain. However, video evidence is not a silver bullet by any stretch, as several recent cases have shown, because people will still have different interpretations of the events in question. Additionally, some civil rights advocates fear unintended consequences, such as the possibility ofillegally obtaining evidence.
The union alluded to the latter in their statement, citing broader privacy concerns for citizens in their filing. They also expressed concerns about officer safety and security, as well as possible mistrust among officers thanks to their lack of input.
Overall, the implementation of body cameras will likely be a good thing. It will have a few kinks to iron out at first, to be sure, but it's hard to argue that having a second set of eyes on a possible altercation will do anything but aid the good cops while weeding out the bad ones.
By Bob Knudsen from The Examiner