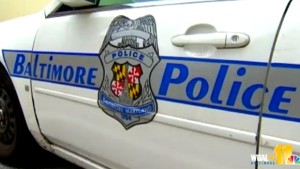 A Baltimore man shot this summer by a transit police officer in Northeast Baltimore had fled after the officer saw him taking a photo of himself holding a handgun, police say in new court documents.
The shooting, which occurred in June, has been ruled justified by the Baltimore state's attorney's office. Jamal Kimble was charged with various handgun offenses and assault, and is tentatively slated for trial next week.
In a search warrant affidavit filed in U.S. District Court in which authorities seek to search Kimble's phone, police said that about 9:30 p.m. June 19, MTA officer Aaron Jackson approached a vehicle illegally parked in a bus zone in the 5500 block of Harford Road.
"As the MTA officer began to write a parking citation, he observed a male subject later identified as Jamal Kimble in plain view, seated in the front passenger seat of a vehicle holding a firearm in one hand and the [phone] in the other hand," police said. "Kimble appeared to be taking a picture of himself holding a firearm."
Jackson knocked on the window and told Kimble to drop the weapon, police said. The officer said Kimble threw the gun, a .45-caliber semiautomatic pistol, out the window onto the ground and said, "OK, man, you got the gun," then jumped out of the vehicle and fled.
Kimble allegedly reached for Jackson's gun after the officer caught him, and the officer fired one shot, striking Kimble in the pelvic area, police said.
Kimble has several prior felony convictions for drugs, which would prohibit him from possessing a firearm, police said.
Todd Oppenheimer, Kimble's attorney, declined to comment on the allegations in the case. Of the recently obtained warrant to search the phone, he said: "It would be nice if the state got us timely discovery and let us know what was going on in the investigation."
The MTA said Jackson returned to full duty after being cleared of wrongdoing in the shooting.
From masstransitmag.com