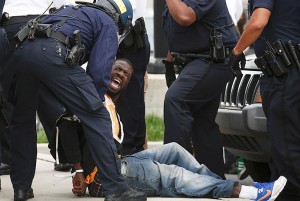 The federal government came under fire this year from activists, media outlets, and officials for not keeping a comprehensive database that tracks the number of fatal law enforcement encounters in the U.S. Mentally ill adults who were shot and killed by police, according to a new report.
The report's authors analyzed the data that does exist—a combination of anecdotal reports collected by citizens, FBI data, and data culled by news organizations.
In October, following years of criticism, federal officials from the FBI and the Department of Justice said they would create comprehensive programs to track police shootings of civilians. Based on the numbers that are available until those resources are created, the authors suggest that specifically focusing on reducing encounters between law enforcement and people with severe mental illness could be "the single most immediate, practical strategy for reducing fatal police shootings in the United States."
It's a problem that seeks an urgent solution: This year alone, a project by The Guardian has tracked fatal police shootings of 1,063 civilians. Of those people, 207 were unarmed. Mentally ill people are especially vulnerable to these encounters, in part because police are not trained to act as mental health practitioners, and because treatment for the mentally ill is lacking, according to the report.
"What we need to do is treat the person before the police are ever called," report coauthor John Snook told USA Today. "This is a mental illness, but we respond by calling the police and arresting a person."
The report's authors, as well as other advocates, refer to this as the criminalization of mental illness, and it's the same factor that results in one in every five prison and jail inmates having a severe untreated mental illness. One of the best ways to address the problem, according to the report, is to prevent people with mental illness from deteriorating to the point that the police are called. This could be achieved by increasing the number of hospital beds available to chronic psychiatric patients, and expanding the use of outpatient treatment for individuals who have frequent contact with law enforcement, the report says.
More than 2,800 police departments in 46 states have implemented Crisis Intervention Training programs that partner mental health practitioners with police to better prepare them for these encounters, according to the National Alliance on Mental Illness. Still, more than 10,000 other police departments don't use such programs.
To bridge the gap, the report's authors say mandating the collection of data on police shootings, and on the status of mentally ill adults in general, is a crucial step. If policy makers can better identify the role of mental illness in police shootings, they will be better equipped to make funding decisions that support the mentally ill, relieve police of a role they aren't outfitted for, and save taxpayer money.
By Rebeca McCray for takepart.com