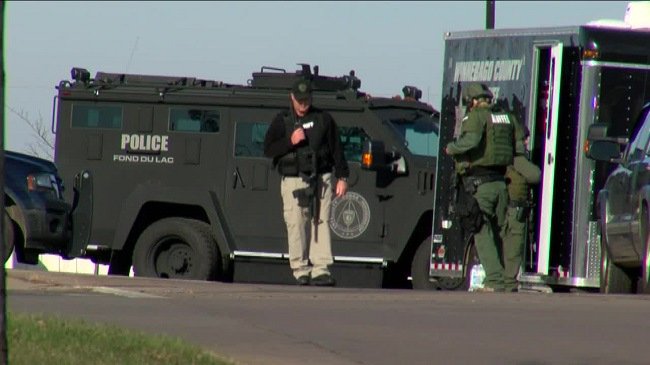 A Vietnam vet and owner of a Wisconsin motorcycle shop was killed Saturday after fleeing a hostage situation, only to be gunned down by police. Now his longtime business partner says officers "shot the wrong guy."
Michael "M.L." Funk, 60, was at Eagle Nation Cycles in Neenah around 9 a.m. when an unidentified gunman wielding a MAC-10 held him and several others captive in what became an hours-long standoff with police.
When cops arrived, a suspect inside the building fired at them, striking one officer's helmet, and the officers retreated, Neenah Police Chief Kevin Wilkinson said.
Shortly after, a man later identified as Funk exited the motorcycle shop. He was "shot at by one or more officers on scene" after he didn't obey orders to drop his weapon, Wilkinson told reporters.
The alleged hostage-taker surrendered around 1 p.m., police said. On Monday, authorities identified the alleged gunman as Brian T. Flatoff, 45, of Neenah.
Flatoff is charged with first-degree recklessly endangering safety with a firearm related to an "incident" prior to the hostage standoff, the Appleton Post-Crescent reported. The Winnebago County District Attorney's office announced plans to file more charges this week against Flatoff, who has a history of drunken driving offenses.
The long-haired and bushy-bearded suspect, who owns a local tattoo shop, reportedly had no connection to the shop owners.
Still, the stickup resulted in Funk being shot and later dying at the hospital. Funk was "terrified of police" following a dramatic 2012 raid on his business, his attorney, Cole White, told The Daily Beast.
Funk and Eagle Nation co-owner Steven "Mad" Erato were embroiled in a $50 million lawsuit against the city of Neenah—about 85 miles northwest of Milwaukee—over the alleged Sons of Anarchy-style crackdown.
White, who represents Eagle Nation Cycles, stressed that Funk was a hostage on Saturday, not the instigator of the standoff. "Mike was a hostage that was trying to flee the scene and was killed as a result of that," he told The Daily Beast. "Whether it was justified or not… time is going to tell us that."
"In my experience, just because police put out a press release and say something, doesn't mean that's the way it went down," White added.
Steven "Mad" Erato had stronger words about the police response.
The mechanics also made news for launching a new political faction: the American Biker Party.
"He was a hostage coming out," Erato told theAppleton Post-Crescent. "They shot him in the alley. They shot the wrong guy."
While police haven't released a motive in the alleged crime, White said the gunman attacked Eagle Nation because he wanted to retrieve his motorcycle, which had been sold to another person and was being repaired at the shop.
"There have been reports that [the gunman] was on probation, had another case pending, [and] sold his bike to raise money for his legal fees," White told The Daily Beast. "Then he decided after he got that money, he wanted the bike back."