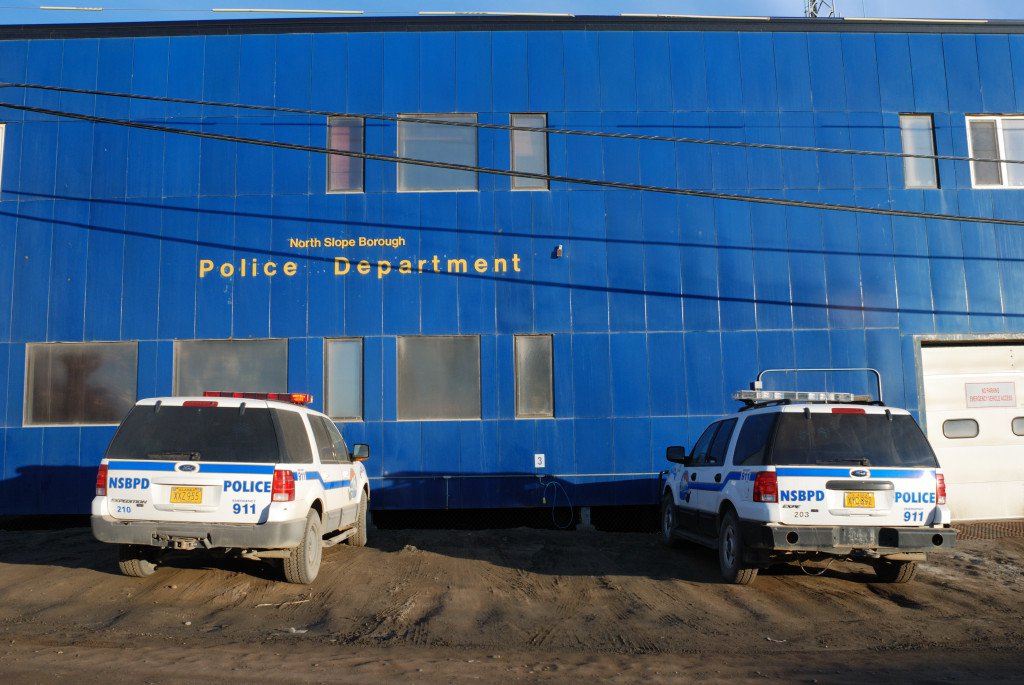 Two former police chiefs for the North Slope Borough Police Department are being investigated by federal and state agencies following misconduct allegations brought forward by an officer who describes himself as a whistleblower.
Former police chiefs Kelly Alzaharna and Leon Boyea and current North Slope police Lt. Phillip Brymer are accused by Officer Gary Moore of playing a role in concealing how seized items repeatedly went missing from the department's evidence room. The department polices Barrow and seven Arctic villages in the sprawling, oil-rich borough.
Moore, who joined the department in 2007, claims that top police officials in Barrow over a seven-year period have refused to hold anyone responsible for evidence that disappeared, including cash, guns, cocaine and marijuana.
Alzaharna says the allegations are false.
Moore's claims of missing evidence began in 2008 when he told his immediate supervisor, Boyea, then a lieutenant, that he realized hundreds of items were missing from evidence rooms.
"The large safe containing cash and money orders was used but never closed because no one knew the combination," Moore wrote in his April 10 complaint to the Alaska Police Standards Council. "The computer program tracking system … was primitive and ineffective in maintaining chain of custody of evidence."
The police standards council certifies sworn officers across the state, reviews complaints made against officers and can take away an officer's certification to work as a cop in Alaska.
Shortly after Moore complained that the evidence rooms were a "filthy mess,"  Boyea was promoted to second in command behind the then newly appointed chief, Alzaharna. At that time, Moore was reassigned back to patrol duty, a job change he said he came to question over time.
By the beginning of 2014, Alzaharna had moved on to become executive director of Alaska Police Standards Council — the same council now investigating the matter — and Boyea took over the North Slope Police Department's top job. According to Moore, it is around that time that he saw a memo from the department's new evidence custodian. She said she had discovered $5,000 cash and an unknown amount of cocaine had gone missing from the evidence room.
The Federal Bureau of Investigation opened a criminal investigation when it received the claims, Moore's letter to the police standards council states. Boyea announced his resignation just as a borough investigation into police evidence practices was beginning, weeks after Moore's allegations became public in 2014 when first reported by The Arctic Sounder.
FBI agents have visited Barrow multiple times, and during one of the visits, "Agents Susan Phillips and Ruth Kroona personally told (Moore) the matter has become much more serious because the total amount of missing cash … is now in excess of $100,000," Moore wrote to the police standards council.
Bob Griffiths, who replaced Alzaharna as executive director of the state police standards council, wrote a Dec. 10 letter to the FBI informing the agency it had opened an investigation but planned to wait for the conclusion of the federal investigation. He took that step as soon as he learned of the complaint against his predecessor.
"The council isn't going to take any action that's going to get in the middle of an investigation that's ongoing," Griffiths explained in a phone interview. "We're going to take a back seat, and when that's all done, the facts will dictate any action that we may need to take."
A separate inquiry into reports of missing evidence launched by North Slope Borough Mayor Charlotte Brower was completed a year ago, Moore wrote in his letter. The results of that borough probe have not been publicly released.
Borough attorney Theresa Bowen rejected a request for copies of the investigation results from Channel 2 News, citing "lawyer-client privilege." The mayor has repeatedly declined interview requests.
An FBI spokeswoman said she cannot comment on ongoing investigations.
Moore also declined an interview request from Channel 2 News. His attorney, Zane Wilson, said in a phone interview that there is "a good ol' boys club in a lot of police departments."
"They're not very receptive to people pointing out their own issues regardless of how legitimate they are," Wilson said.
'ALLEGATIONS ARE FALSE'
Boyea and Brymer could not be reached for comment, but Alzaharna pushed back against Moore's claims.
"The allegations are false. Allegations of misconduct on any administrative part is false," Alzaharna said in a phone interview. She said that she was not pressured to quit but instead chose to step away. She is now listed as a treasurer for the New Mexico Corrections Department Office of Professional Standards.
Alzaharna tells a different story than the officer who accuses her of misconduct, someone who she says may be a "disgruntled employee."
The former chief said she switched Moore away from evidence custodian to patrol duties not out of retaliation for his report on missing evidence but because there was a lack of sworn officers when she took the job in 2008.
"Mr. Moore was not happy about that," Alzaharna said.
Moore also has an active complaint of use of excessive force for a May 30 incident at Samuel Simmonds Hospital in Barrow for "employing a choke hold in restraining an individual in … custody," and a letter from his attorney to the mayor claims that Moore may soon be transitioned into a less desirable job.
The veracity of all the claims and a timeline for resolution remains unclear, as federal and state investigators decline to provide information as they continue trying to figure out what went wrong.