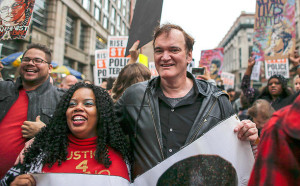 Cops who boycotted Quentin Tarantino's latest movie are taking credit for its disappointing ticket sales, even though only recently they abandoned plans to boycott the film.
The violent Western was released on Christmas Day and has grossed $42.9 million so far. At this rate, it's set to barely pass its production budget of $50 million — meaning big losses for the Weinstein Co., which spent another $25 million to $35 million on prints and promotion.
Police Benevolent Association President Patrick J. Lynch, the first union official to call for a boycott of the film, said, "With nearly 1 million law enforcement officers in this country who have families and friends who support them, the impact that police have economically on a product or project is immense. The law enforcement boycott of cop-hater Quentin Tarantino's movie is one demonstration of that economic power."
Lynch called for the boycott after Tarantino spoke at an Oct. 24 anti-cop rally in New York. "I'm a human being with a conscience," Tarantino said. "And when I see murder, I cannot stand by . . . I have to call the murderers the murderers."
The boycott spread across the country from one police department to the next.
"Can we take full credit for the stinker's failure?" Lynch said. "Well, one thing we can attest to is that many, many good citizens have told us that they were offended by Tarantino's ignorant, anti-police remarks and, as a result, have refused to spend their money on this movie."