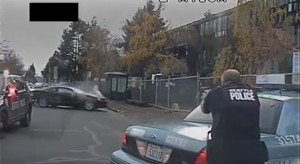 The city of Seattle has agreed to pay more than $174,000 in attorney fees to KOMO-TV stemming from a lawsuit alleging the Seattle Police Department violated state public-records law by withholding dashboard-camera video requested by the station.
The settlement, reached last month, came after the state Supreme Court ruled in 2014 that police videos can't be withheld from public disclosure unless they relate to pending litigation.
Five members of the high court said the department wrongly used a state statute as a blanket exemption to the state's public-records act when it refused to provide dash-cam videos requested by a KOMO reporter in 2010.
The decision overturned a 2012 King County Superior Court judge's ruling that said the video could be withheld for three years.
The court awarded KOMO attorney fees and sent the case back to the lower court.
The settlement of $174,182.98 represents a compromise and not an admission of liability on the city's part, according a copy of the agreement.
The KOMO request and suit preceded the hiring in 2014 of Police Chief Kathleen O'Toole, who has significantly altered the command staff and overseen changes to improve the public-disclosure process.
The high court's ruling resulted in release of the videos to KOMO, although the disclosure of one was delayed when its contents triggered a criminal investigation into an officer's use of force that was resolved in November without charges. The video was then made public.