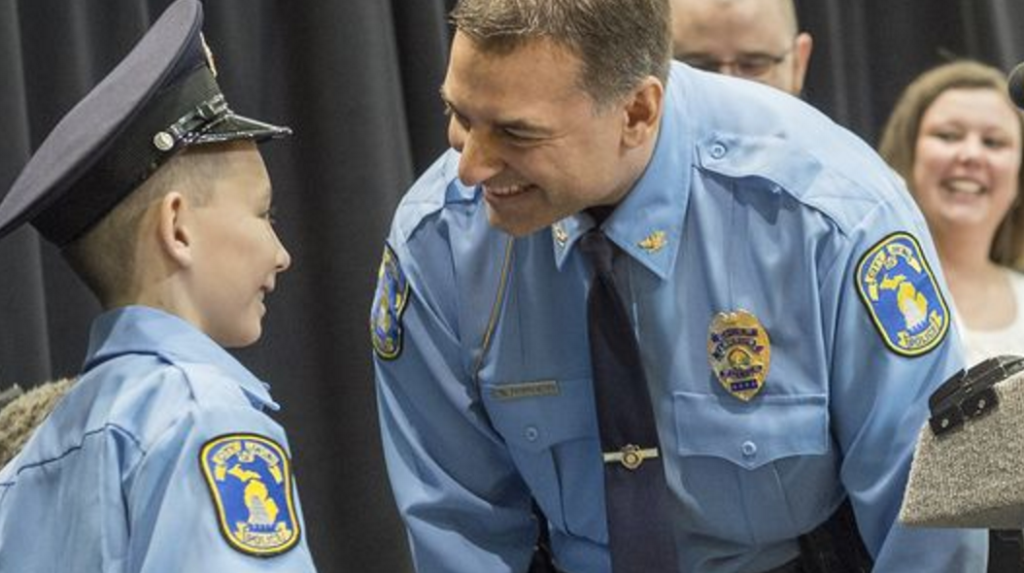 Police worship starts early in Lansing, and this time we can point to the story of Jeremie Bordua, a fifth-grader at Lansing's Mount Hope STEAM School who was encouraged by his parents to "give up his birthday to thank the police."
Los Angeles Police Officer Gary Hall flew across the country this week to be thanked for his sacrifice by the boy who chose a ceremony honoring police over his 11th birthday party.
Bordua, who turns 11 on Monday, said police have been viewed in a bad light through news of deaths at the hands of officers, despite the good work of many.
"It feels like they get bullied bad like I do," the soft-spoken Bordua, wearing a T-shirt reading "I Am the Future," said before today's program. "I just wanted to do this for them."
The scary thing is that Jeremie said he's been bullied by other students since kindergarten, which is why his parents encouraged him to virtually "worship" police and what they do.  What is unanswered yet is, will Jeremie grow up himself to become a cop and get revenge on the people that bullied him?
About 250 people attended, including about 60 uniformed officers, most from around Michigan and a few from out of state. Officials, including Lansing Police Chief Michael Yankowski and Ingham County Sheriff Gene Wriggelsworth, lauded Bordua during the ceremony, which was followed by a reception. Bordua was made an honorary Lansing police officer, and was given his own, slightly ill-fitting uniform.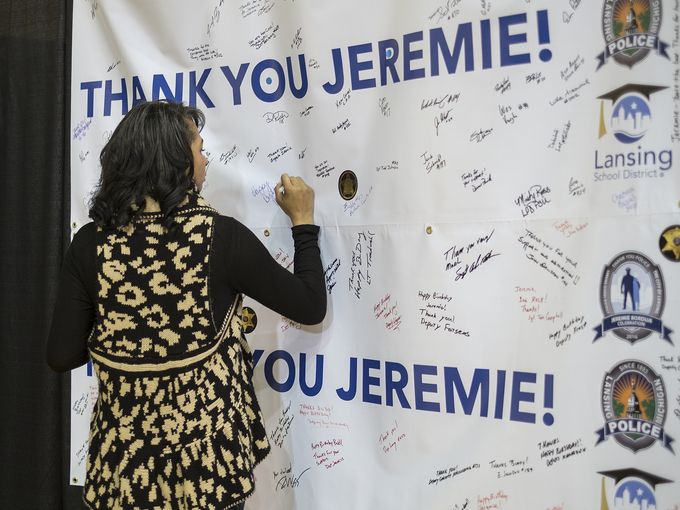 To pay for his party idea, Bordua and his mother began selling homemade cookies at $5 a dozen last spring. He raised $10,000 through the sale of about 300 dozen cookies and donations through a GoFundMe site. His party cost a fraction of that, so he pledged the rest to the Lansing Police Athletic League. The nonprofit pairs officers with at-risk youth for sporting activities.

Bordua's story was previously featured in September on the CBS Evening News, which brought national attention to his cause.
"It's a tough thing to be a police officer," Wriggelsworth said at the ceremony. "This is the proverbial hug that we need."
It is unknown when Jeremie will score his first kill in the line of duty, but we will update the public in another 10 years once he starts drawing a check from his local PD.