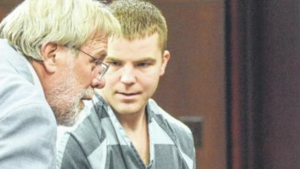 A judge convicted a former Lima Police Department officer this afternoon of raping a 16-year-old girl.
Judge David Cheney issued his verdict at 1 p.m. today after reviewing the evidence from a two-day trial last week. Cheney convicted Justin Bentz, 28, of rape and kidnapping, a pair of first-degree felonies, two counts of sexual battery, a pair of third-degree felonies, and one misdemeanor count related to furnishing a minor with alcohol.
He will be sentenced April 14. He faces up to 11 years in prison for each of the two first-degree felony charges.
During the trial, Bentz's defense painted the 92-pound, 5-foot-2 girl as the aggressor. Several witnesses described her as looking 12 years old.
During the trial last week, visiting prosecutor Todd Schroeder pressed Bentz on the classes he took online just hours before to complete a continuing education requirement that prevented him from working the streets that evening. The classes included informing him again it was against the law for a peace officer to have sex with an underage girl. Classes also included sexual assault investigations, evidence collection, and pitfalls in such cases.
"How could it have never crossed your mind when hours before you were taking a class about sex crimes against minors?" Schroeder asked.
Bentz said he didn't think about it.
"It's not something you usually think of when someone is coming on to you," he said.
Schroeder responded, "You're a peace officer, you're not just someone."
Bentz was also involved in a 2011 deadly shooting in which a man was killed during an altercation with police.