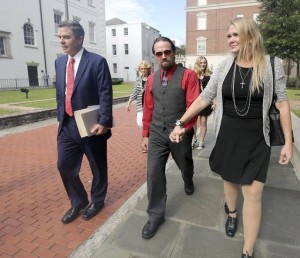 By: Deric Lostutter
In December of 2015, I covered how new allegations could implicate Terry Elvis in the now 2 year old disappearance of his daughter Heather Elvis, including allegations of sexual abuse, and a past criminal record of fraud.
Heather was reported missing December of 2013 at the age of 20.
Her car, registered in her father's name, was found near property her father owns at Peachtree Landing, a dark swampy area that allows fisherman to load boats into the Waccamaw river which empties into the Atlantic ocean some 30 miles down stream.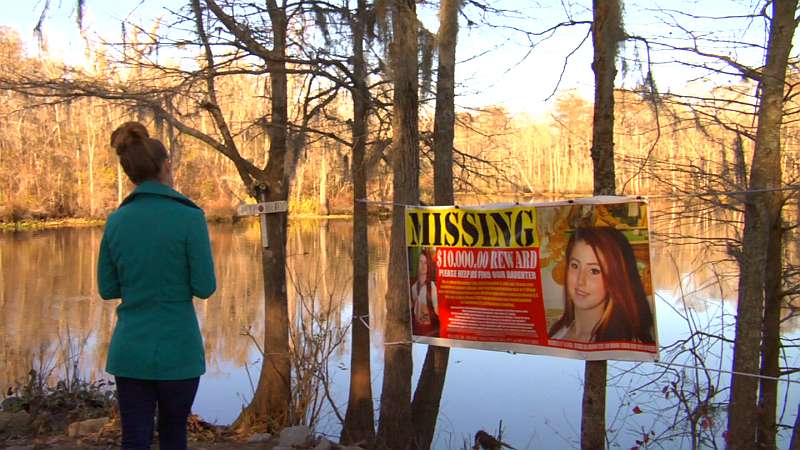 Due to an affair, one which Terry Elvis is said to have despised, Sidney and Tammy Moorer were were charged with kidnapping, and murder of Heather Elvis, even though no body was ever found.
The search for Heather Elvis was called off after 2 months of fundraising which netted the Elvis family well over $100,000 according to sources close to the family.
I also covered the allegations that multiple cars, clothes, and other items were purchased by Terry Elvis, which some claim came from the donations that he raised to find Heather.
As of  March 10th 2016, the murder charges in the Heather Elvis case against Sidney and Tammy Moorer have been dismissed by the judge.
Although kidnapping is still pending for the duo, one would start to question how those charges would stick with no evidence and the most serious of the offenses dismissed by the court.
Sources close to the Moorers told of a bias, or plan to railroad the couple, based on Terry Elvis' brother's affiliation with the local law enforcement.
Things were looking dim for the pair as time went on, even sparking an online "witch hunt" by various internet bloggers and Facebook users who have seemed to deliver the guilty verdict prematurely.
Sources also tell that Terry Elvis, without permission from the city or landowner, paved over the spot where Heather Elvis' car was found to "build a memorial".
If true, this could have destroyed any evidence that existed in the area that could lead to solving the sad mystery of what happened to young Heather Elvis.
Sources close to the investigation also tell us that the Police had no knowledge of Terry's other daughter, Alyssa, with Karen Wilcox.
The revelation of another undisclosed child of Terry Elvis is yet another revelation in the ongoing saga of the Elvis family.
This is disturbing, as it would be the investigators job to thoroughly analyze every aspect of Terry's life, as well as any other suspect.
The Elvis family has responded to media since the murder charges have been dismissed, you may watch the video below.
http://wpde.com/news/local/family-of-heather-elvis-speaking-out-after-murder-charges-dismissed-against-suspects
By day, I am a cyber investigator, and, taking a neutral stance on this matter, I analyze all angles.
If I was given this video to analyze, I would have these key issues to raise in court:
Around the 3 minute mark, the family declined to comment about CUE, a very reputable center that searches for missing persons, that originally helped with Heather's search.
The family claimed that the searches results would be inadmissible in court.They also stated that the police department are the only ones qualified to search.
This is false.
The CUE center has provided search efforts for hundreds of missing persons cases since it's inception in 1994, all of which their methods and results were admitted in court.
Terry initially put his former best friend, Bill Barrett, who is alleged to work near the site of another disappearance of a girl Heather's age, Brittanee Drexel, as head of the search party.
Brittanee Drexel's mother offered to help with the search as well. Terry Elvis denied her assistance according to sources.
Bill was then charged with obstructing justice (case number: 2014A2610200237) for allegedly planting evidence against the Moorers on their property, and interfered in one of the most reputable organization's efforts to find Heather Elvis.
Bill Barrett interfered with the CUE's efforts tremendously.
According to sources close to the search party, a private donor from Texas funded the CUE search.
To verify my sources, I present you with this article: http://www.myhorrynews.com/news/crime/heather_elvis/article_57225c9e-9f25-11e3-a826-001a4bcf6878.html
Despite all the free services the CUE offers that would not need Terry's donations, Terry fired them according to sources.
Bill is currently awaiting his trial date, said to be after the Heather Elvis trial is closed.
Heather's sister, Morgan, and father, Terry, can be seen the entire video smirking, and, around the 5:00 mark, Morgan emits a full smile to the camera in what should be a tragic day for the family.
This smile is given as questions are left unanswered during a plea for tips to be submitted to the Elvis case, instead of a look of desperation as one would be expected to have.According to some body language experts, smirking can denote arrogance, or narcissism.
Around the 7:00 minute mark, Morgan de-personifies her sister, Heather, stating that she no longer feels anything when staring at her picture. She then retracts, only to ask people to again take interest in the case.
To some, this could be a sign that she may like the attention the case is getting her, and her family, as she continues to smile on video during such dark times.
Around the 8:00 minute mark, Morgan continues to degrade her sister, making a very inappropriate jest at her sister's personality, further dehumanizing her. Her mother can be seen giving her the "side eye".
At 12:00, Heather's mother, Debbi, can be heard advising people what to read, and what not to read, an effort of censorship, that the family only wants to control the narrative.
At 14:00 Terry Elvis states a veiled threat, as a man with a previous criminal record, that he will do what he has to do, to who he has to do, to get closure on the case.
At 15:00 Debbi states not to trespass on other people's property, which would be sound advice, had their search leader not done the same.
Sources close to the Moorers also tell me that Debbi, at the beginning of the case, trespassed on the Moorer's property, advising one to "roll" on the other to save themselves.
At the end of the video, Heather's sister purses her lips at the mention of the community coming together to find Heather.
Pursed lips are a sign of holding back what you are going to say:
Lips which are pulled inwards from all directions are an indication of tension and may indicate frustration or disapproval.

Pursed lips are a classic sign of anger, including when it is suppressed.

It is effectively holding the mouth shut to prevent the person saying what they feel like saying. This may also be an indication of lying or withholding the truth as the person stops themselves from telling the truth.

Pursed lips can also indicate a person who is thinking and who is deciding between possible options. Deciding and disapproval are both evaluative actions, which is the common core of lip-pursing. – http://changingminds.org/techniques/body/parts_body_language/lips_body_language.htm
Interesting to note, near the end of the video, Morgan automatically assumes that there will be a "body found". She seems to believe, or have knowledge of, her sister no longer living.
I truly hope that the case is solved, and Heather Elvis is found alive and well. To quote Heather's father, Terry Elvis, "There is more than meets the eye".
I have reached out for comment to Sidney Moorer, but he has not returned my message.
UPDATE: 
Horry County Police and Sheriff's department are defendants in a massive lawsuit for fraud, civil rights violations and more. Perjury, and falsified evidence have been presented in court.
Jay Brantly is one of the key defendants in the law suit, and his wife, Brenna, has been obsessed with the Heather Elvis case for some time.
The suit involves a kidnapping and basically murder of an elderly woman, Doris Holt by police officers.
Southern Holding Corp, valued at over $20 million, was under attack by share holders, who illegally planned to steal the corp from the CEO, cash in, and make millions.
Bribing judges, law enforcement officials in both North Carolina and Horry County, they had the CEO falsely arrested, searches of homes illegally executed, then using Department of Social Services, basically kidnapped 91 year old Doris as a ward of the state, shipping her off to various nursing homes, refusing to disclose her location to her son.
Abuse reports were ignored, and Doris eventually died of starvation and dehydration.
There is a $200,000,000 claim on the case.
To support the above analysis of Terry Elvis' veiled threat, I have obtained leaked private conversations between the wife of  Horry County Police Officer Jay Brantley.
This conversation is between Brenna Brantly, and an undisclosed source.
In this threat, you will see that a police officer knows about a plot from Terry Elvis to murder Sidney, should Sidney Moorer's charges get dropped.
Terry Elvis still walks free to this day, despite a felony threat.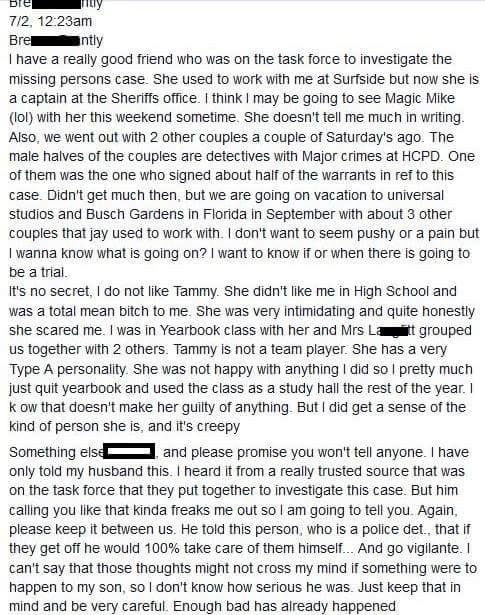 So what we have here, is the wife of a crooked police officer, who explains a severe bias for Sidney's wife, and knowledge of a felony threat.
Brenna Brantly, who is an avid Donald Trump supporter according to her Facebook profile, continues to mock the defendants on various social media outlets, and pages to this very day, which I am sure is a strict violation being the wife of a police officer.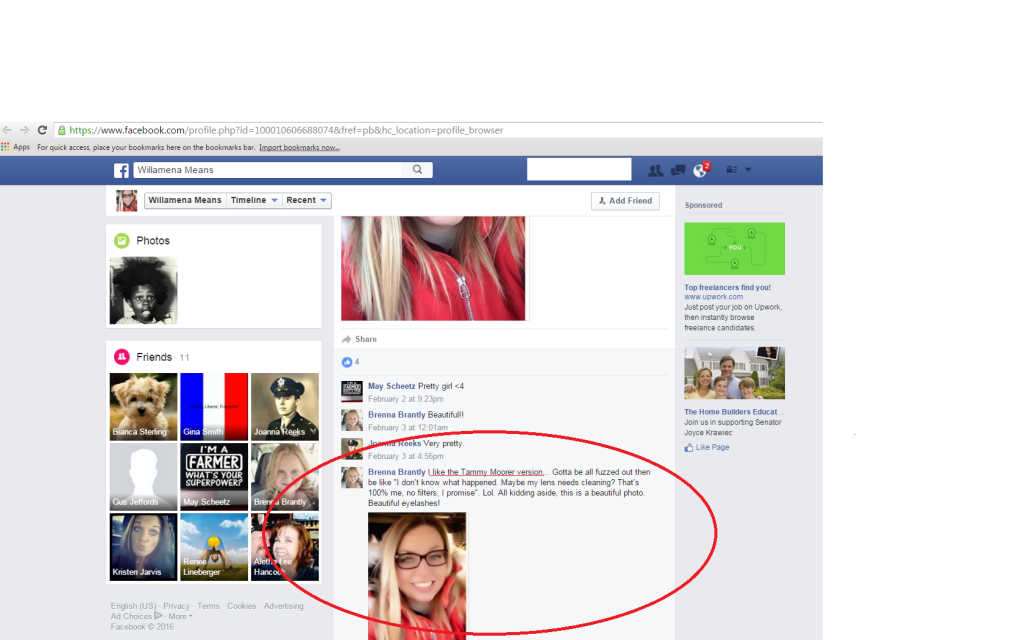 It seems the corruption and scandals continue in South Carolina.
Stay tuned for more updates.