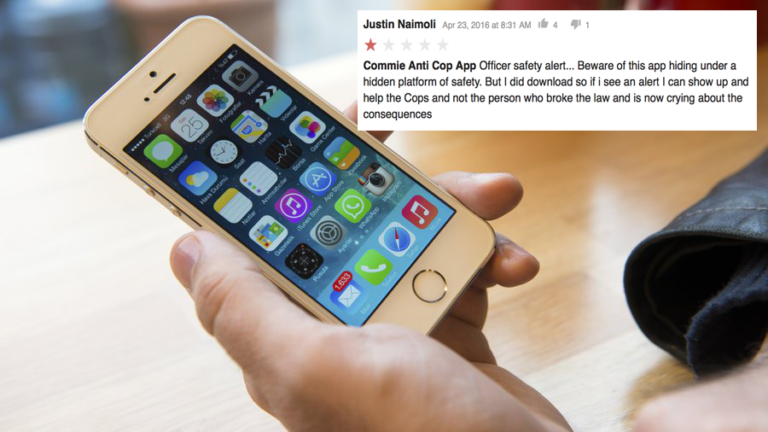 For the last several months a new smartphone app called Cell 411 has been making news and capturing the attention of various media outlets with its goal to encourage personal responsibility, create safer neighborhoods and put personal safety and responsibility into the hands of citizens. The app has become extremely popular in South Africa among citizens trying to face the extremely high murder and crime rates in the country. South Africans are using the app to alert their friends and families and create neighborhood watch groups to keep their homes and families safe and alert each other of potential criminal activity.
The app has been wildly successful, amassing over 50,000 downloads between the iOS and Android platforms in just a few months, but for some reason cops are not happy with its success, mostly due to the fact that the app has been successful among activists and "cop blockers."
What Cell 411 does is in essence very simple: it allows users to notify their friends, family or neighbors when problems occur, should they witness crime in a certain area, get a flat tire on the highway or run into a medical emergency or another type of danger. The app will instantly send the exact GPS coordinates of the user to a large number of friends or family members, who can choose to respond to help, getting turn-by-turn directions to the location of an incident.
Furthermore, users can stream live video to allow them to keep a record of a criminal act, police interaction, or any other situation they may find themselves in.
But for the last several weeks, this app has come under attacks from American cops and other government employees who appear to be afraid of the competition the app has to offer. It is unsure why American cops would hate the idea of citizens having the freedom to rely on each other for help, but some reviews posted in the Google Play store indicate that cops could in fact be terrified that citizens are starting to understand that after all they don't  really need police and can easily rely on each other for help as cops often show up and escalate a situation, commit violent acts or even shoot innocent people for no apparent reason.
One review posted in the Google Play store was by New York City police officer Justin Naimoli.  Officer Naimoli was sued several years ago after he assaulted, pepper sprayed and abused a 23 year old woman named Imani Brown. Naimoli gave Cell 411 a one star review calling it a "Commie anti cop app" saying,
"Beware of this app hiding under a hidden platform of safety. But I did download so if i see an alert I can show up and help the Cops and not the person who broke the law and is now crying about the consequences."
Office Naimoli is clearly against the idea of Americans being free to observe police, record their actions and keeping them accountable for their actions. Perhaps this is because of his own history of abuse, assault and violence against NYC citizens.
Other posts like one from a user named Forrest Hagerman claim that the app "puts people and police in danger" but does not explain how.  According to a google search, Hagerman is a former government employee from the Seattle area.
Other fake one star reviews have been posted as well, and all appear to be from either current or former police officers or other government employees.
What is most ironic about this, is that the users posting these reviews are also in fact in direct violation of the license agreement with Cell 411. The agreement expressly forbids government employees from installing the app and creating an account on the Cell 411 platform, stating:
"Governments, and agents and subcontractors of same, are not permitted to use this software or derivations of this software."
Clearly, police officers are readily willing to violate license agreements, post fake reviews and even contact the technical support e-mail address to harass the employees of the company.
When we contacted Cell 411 for comments, Virgil Vaduva, the founder and creator of Cell 411 provided us with a screenshot showing that officer Naimoli sent several emails to the support address reserved for Cell 411 users in order to accuse the company of "lying."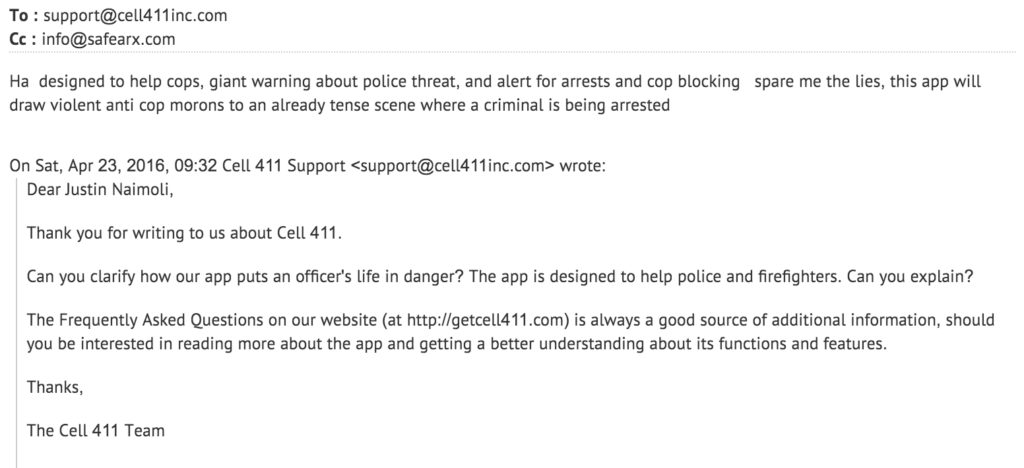 Vaduva said that it is unclear how an app that allows free human beings to network together and send notifications to each other (much like text messaging) is a danger to anyone:
"Our app is no different than Facebook or Uber: it simply allows users to network together and notify each other of emergencies. To imply that it is an anti-cop app is simply ridiculous and ignorant. Over 100,000 alerts have been sent through our platform since our app went live. Those are all calls that police did not have to deal with, in essence lightening the load of their work and eliminating minor and non threatening calls from police logs. The app is helping police already, not harming them.  Police officers should embrace this app and embrace new technology, not harass our tech support team.  Much like taxi unions are attacking Uber due to competition, it appears that now police are doing the same with us when instead they should partner up with us to make the world a better place."
The company is planning the release of Version 3 of Cell 411 in several months, with a number of important improvements and features, including partnership with private security firms, payments options for first responders and many other features aimed at what they say "making the world a better place."
You can download Cell 411 from http://getcell411.com