by Virgil Vaduva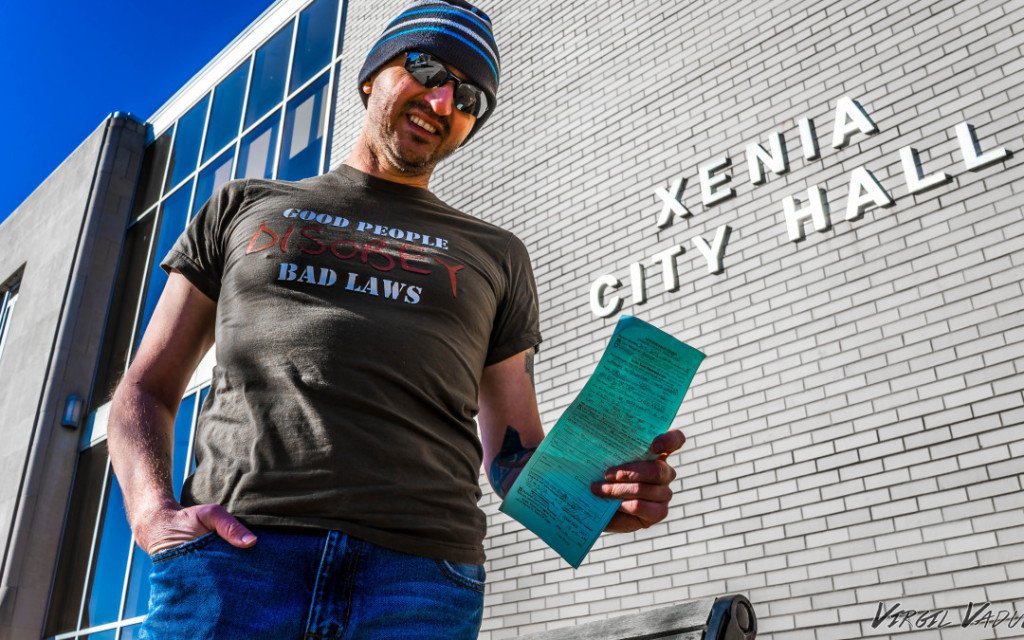 Xenia is a small city in Ohio, peppered with foot-deep potholes, abandoned buildings with a high unemployment rate and very busy bureaucrats. Just a few months ago, the city's council decided to spend $6 million on a new "Justice Center" and the cost is expected to balloon well into the $20+ million range. The city is in dire need of infrastructure upgrades, road repairs and sewage system improvements, but a new police station and a new office building for the city's employees became critical.
But these are not even the worst things about the city of Xenia.  A few years ago, Xenia also decided to ban the practice of panhandling. At the request of the police department and cops who were "too tired" of dealing with homeless people on the street, the city decided to pass an ordinance that banned panhandling virtually anywhere in the city, making it impossible for anyone to ask another individual for financial help, anywhere in the city. In essence, the city has made it illegal for someone to speak with a stranger if the speech involves asking for immediate help.
Many individuals have been fined and prosecuted under this unconstitutional ordinance, raking in thousands of dollars of fines extracted from the most vulnerable and poor people on the streets.
A bit over a year ago I decided to speak to the Xenia City Council and warn them about the fact that their ordinance is unconstitutional. They ignored my warning, and as a result the very next day I decided to take the path of civil disobedience and panhandle in front of the city hall and police station. I raised $41.98 which was donated to United Voluntary Service, a charity helping the homeless in Xenia. I was also ticketed for violating this unconstitutional law, which led to a full-blown jury trial after which I was found guilty, sentenced to 30 days in jail, community service and fines. The jail sentence was suspended on the condition of good behavior for a term of 2 years. During the trial I was not allowed to talk about the constitutionality of the law and my first amendment rights, I was not allowed to even mention the constitution, or the fact that the police in town were behind the passing of this ordinance. A judge literally told me, "there will be no mentioning of the Constitution in this court room."
After immediately appealing, the appeals court finally reversed my sentence and they sent the case back to the court to be retried. All the charges were dropped a few days ago, and the city's attorney said they will change the ordinance or get rid of it. Right now it's unclear what this means.
After about a year and a half, the swift hand of the judicial system finally found me innocent of any wrongdoing spending tens of thousands of dollars of the city's money and my own money, hundreds of hours going into my defense and substantial effort aimed to win and undo the work of the Xenia bureaucrats. What took them only a few minutes to ratify with the stroke of a pen, caused hundreds, if not thousands of people to be harassed, arrested and fined by their cops. None of the cops and Xenia bureaucrats involved in this will ever be held personally responsible for their decisions, and while I am fortunate enough to afford the legal fees to pursue such a case just for the immoral and unconstitutional aspect of their law, most people cannot do so and rarely, if ever anyone speaks on their behalf or stands up for them.
Now while this may be a win for me personally, the issue is nowhere near close to being resolved. The hundreds of people who have had their first amendment rights violated will need retribution. I am in the process of collecting all the names of the individuals detained or fined under this law and bring this issue to the attention of federal courts.
To make matters worse, the city of Beavercreek, which is next door to Xenia, has an ordinance identical to the one in Xenia, also banning panhandling everywhere within city limits. More and more local bureaucrats decide on a regular basis and in a systematic way to violate the constitutional rights of people in need who are unable to represent themselves in court. Beavercreek is the same city where a police officer shot a black man named John Crawford in a local Walmart for holding a BB gun he picked off a store shelf.
Beavercreek will be our next target for their unconstitutional and illegal practices regarding panhandling, and there will be no rest for the corrupt and immoral politicians and cops running these cities and violating our rights. Yesterday I "panhandled" for charity in Beavercreek and I was given a "warning" from their police and asked not to do it again in the future. I raised $18 dollars which will also be donated to United Voluntary Services to help the homeless in the area.
Officers Hall and Darkow (the second officer involved in the shooting of John Crawford) of Beavecreek PD showed up and threatened, attempted to intimidate me and warned me about standing on a street corner with a cardboard sign that said, "Help the poor."  In today's America, this is now a crime.
The officers refused to answer questions about the constitutionality of the law and why they are violating their oaths to the Constitution by enforcing a law targeting Americans' first amendment rights.
The same individuals who have sworn an oath to obey and protect the Constitution are actively using their roles to undermine the very document and rights they were entrusted to protect.
If you have been one of the hundreds of people harassed, arrested or fined by the Xenia and Beavercreek police for panhandling, please contact me as soon as possible at [email protected] so I can help you out. I want to hear your story.
---
Virgil Vaduva is a Libertarian security professional, journalist, photographer and overall liberty freak. He spent most of his life in Communist Romania and participated in the 1989 street protests which led to the collapse of the Ceausescu regime. He can be reached at vvaduva at truthvoice.com.