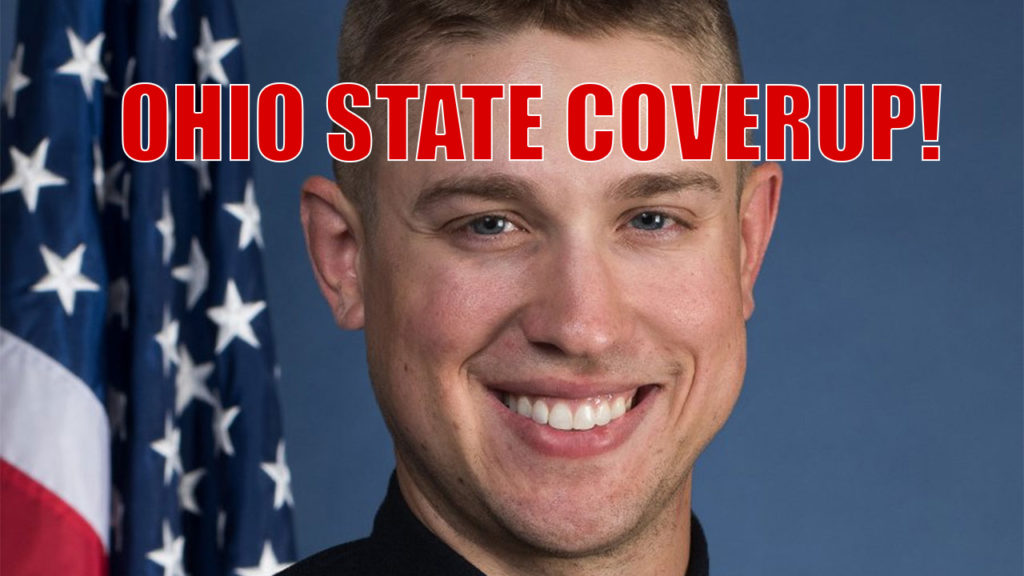 Update: It appears that at least one mainstream media outlet, the Columbus Dispatch did mention at least one gunshot victim in this article however failed to account for how the individual was shot or ask authorities how it happened.
In what is becoming a bizarre turn of events, it appears that the cop hailed as the hero who saved lives at Ohio State, is actually is responsible for shooting several of the students while trying to shoot the attacker. Officer Alan Horujko, hailed as a hero by mainstream media, appears to be responsible for causing several gunshot wounds, one of which appears to be serious.
Around 10:30 AM on November 28, Abdul Razak Ali Artan, a Somali immigrant attending Ohio State drove his car into a crowd of students who were gathered outside a building due to a research lab fluoride leak causing an evacuation.  After this, Artan exited the car holding a knife and began stabbing several bystanders with the large kitchen knife.
As police was already present there, Abdul Razak Ali Artan was almost immediately shot by OSU police officer Alan Horujko who was immediately hailed as a hero by the mainstream media.  While perhaps Horujko is a hero for ending a threat, it appear that the mainstream media is not telling the entire story, namely that several of the students injured during the attack were injured by Horujko's poor marksmanship, not by Artan's knife.
Almost immediately after the attack, eye witnesses started calling out mainstream media for falsely reporting that a shooter was loose on campus and for covering up the fact that some of the most serious injuries were caused by the police, not the attacker.  One eyewitness wrote in a post titled I'm Here, This is what happened,
A Muslim jumped the curb and used his car to hit people. Then he got out with a machete and tried to whack a few folks with that. He didn't have much success. The police were called. A campus cop showed up, emptied his clip killing the Muslim and ALSO SHOT A STUDENT. The cop gets on the radio and says 'shots fired' – suddenly its a 'mass shooting'.

Now they're on TV not saying a word about the student the cop shot who is in critical condition. In fact, the worst injury in all this came from the police. They're also completely ignoring motive, race or religion of the attacker. They're not giving his name or even asking the question.

This whole thing has been escalated times a thousand by a bored media and an overzealous cop….a reporter just asked if anyone other than the attacker was shot and THEY IGNORED THE QUESTION. Ridiculous.
So far no media reports have mentioned the fact that the most serious injuries appear to have been caused by police rather than the terrorist armed with a knife.
Another source working for the Ohio State University public safety department who does not wish to be identified publicly, told TruthVoice that one victim with a fairly serious gunshot leg injury was treated at Ohio State Medical Center and at least one other victim with gunshot wounds was treated at another hospital. The extent of the injuries appears to be unclear right now.
No other media outlets appear to report on the fact that several students were shot by police and continue to ignore the question of how victims of this attack ended up with gun shots while the attacker was only armed with a knife.
The narrative of "cops as heroes no matter what" continues to be played as the main thread in all media reports, putting the media in questionable light as they should be the ones asking the difficult questions in order to provide a full and complete story to the public at large.
We will continue to keep you updated as new details about the Ohio State University attack emerge.