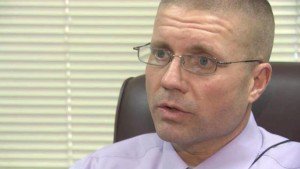 SANFORD, N.C. — Lee County Sheriff Tracy Carter is being accused of unlawfully arresting a man who tried to serve him with a subpoena for a federal lawsuit that alleges excessive force.
Robert Terry Wade III, 71, was tasked with delivering the subpoena two weeks ago, and stated in an affidavit that Carter responded to him with shouting and hostility when he tried to serve the documents. Wade claims Carter summoned the police and prevented him from leaving until they arrived.
"I tried to leave, but Sheriff Carter came and positioned himself behind my truck and blocked me in so that it was impossible for me to leave without coming into contact with him."

— Robert Wade III
When the police arrived, the affidavit says Carter ordered officers to arrest Wade, who was charged with trespassing and possessing a concealed weapon after Wade notified them that he kept a gun in his vehicle.
Court documents show Carter's attorneys responded to the incident by claiming that Wade should have served the documents directly to them instead.
In response to the incident, US District Judge Terrence Boyle approved a restraining order filed against Carter, which states he is "restrained and enjoined from interfering in any way with [the plaintiff's] efforts to serve subpoenas to any witnesses in the upcoming trial."
The lawsuit against Carter claims that the Lee County Sheriff's Office used excessive force while arresting Steven "Wayne" Thomas in 2009 after reports he was acting erratically and had damaged a fence on the side of a road.
According to the lawsuit, sheriff's deputies assaulted Thomas, who was unarmed, and broke his jaw, causing him to lose a tooth, before using a stun gun to administer electric shocks eight separate times in a span of three minutes, eleven times in total.
Thomas, who is seeking up to $5 million in compensatory and punitive damages, also claims he was held in jail for over three days without being allowed to post bail.
Sheriff Carter is on record having defended the actions of his deputies. TruthVoice found a statement taken shortly after the arrest, in which Carter said:
"The officers responded to a situation where they knew (Thomas) was being combative, and I feel like they used a reasonable amount of force. I'm glad they had their tasers because it could have been much worse."
The trial for the excessive force lawsuit against Carter is currently set for June 2.